Driven by passion and belief that she could, Estefania Palacios began her college journey in Lone Star College-CyFair developmental classes and recently graduated with her associate of arts with high honors in research and is a recipient of a $126,000 scholarship to Cornell University.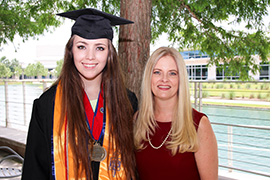 "My whole experience here has been positive and I've really grown in these three years," said Palacios, who is sad to leave her comfort zone in Texas, but excited about a new opportunity to grow in New York. "I was looking for a program with a flexible curriculum on legal, economic and social issues. Most importantly, I wanted an education that would prepare me to tackle inequality injustice in our labor system. I'm all for women's rights."
Palacios will pursue a bachelor's in industrial and labor relations at Cornell with an ultimate goal of going to law school, possibly Yale,  and a career focused on equality, in particular women's rights.
"I could not be prouder of Estefania and her admission to Cornell University," said Dr. Blake Ellis, history professor and co-advisor for Phi Theta Kappa. "I've been consistently impressed with her intellectual curiosity, her passion for service to the college and her desire to create positive change in the community. She's truly one-of-a-kind and I can't wait to see all that she accomplishes in the future." 
Born and raised in Ecuador, Palacios graduated high school in 2013 with plans to become an architect. Moving to Houston on her own to continue her education, she said she found a college that felt like home.
"My whole experience (at LSC-CyFair) has been positive," said Palacios. "I've really grown in these three years."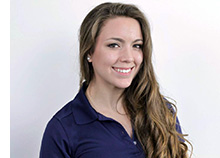 With hard work as well as support, guidance and mentoring from "caring, tough and challenging professors," Palacios moved from developmental classes to credit classes and was soon accepted into the Honors College and Phi Theta Kappa. She had opportunities to present her honors research project "Working for Victory: Rosie the Riveter" at conferences, but also to travel to Italy for the Honors College International Capstone trip.
Involved at LSC-CyFair, Palacios served as dance team captain and in officer positions with Expresate, Honors College and Phi Theta Kappa. She earned several scholarships, such as the Didwell-Liebling Opportunity Scholarship, and she worked as a Student Ambassador.
"At new student orientation, I'd tell students, and it sounds cliché but it's true, 'You can start here and go anywhere, anywhere," said Palacios, who is the epitome of this LSC tagline. "You just have to believe you can."