Children who are accident or crime victims can become traumatized and require special attention to help them cope. The Leadership North Houston (LNH) Class XXI developed a community service project to address this need through the 911 Bear Project: "Give a Bear, Share a Bear."
"We see it on the news every day, first responders who find children that have gone through a painful and stressful situation," said Kay Fitzsimons, LSC Community Leadership and Engagement executive director. "This program goes a long way in assisting the police officers, firefighters and emergency medical technicians help those children."
The 911 Bear Project collected more than 1,600 bears, 600 of which were donated to the Federal Emergency Management Agency as part of its flood relief program. Harris County Precinct 4 and 5 Constable's offices also received donated bears during a ceremony held May 19 at the Lone Star College Community Building in The Woodlands. The volunteers represent students, business leaders, faculty and organizations in the north Houston area.
The program was developed by members of the LNH Class XXI who explored ways to assist first responders who are faced with family disputes and car accidents involving small children.
"A mother of a 7-year-old daughter who received a bear after being involved in a car accident told me that it is a blessing to all children that go through a traumatizing experience," said Fitzsimons.
Many law enforcement officials spoke at the ceremony including Sheriff-Elect Capt. Rand Henderson, Montgomery County Sheriff's office; Capt. Ronnie Glaze, Harris County Precinct 4 Constable's office; Capt. Jay Coons, Harris County Sheriff's office, Precinct 5; Chief David Kimberly, Klein ISD Police Department; and Chief Alan Bragg, Cy-Fair ISD Police Department. Linda Walker, FEMA, also spoke to those in attendance and Cody Holder, representing Harris County Commissioner R. Jack Cagle's office, presented a proclamation naming the day 911 Bear Day.
"This event not only benefits the entire Houston community but assists officers in being less intimidating when working with children," said Christina Robinson, LSC-University Park chief strategy officer and LNH Class XXI community service project co-chair.
Each year, LNH class members are asked to complete a community service project of their choosing as part of the program. Class participants are responsible for all aspects of the project – selection, funding and coordination – and this presentation served as the culmination of the LNH Class XXI project.
The graduating class of LNH XXI includes: Jessica Adlam, Reliant an NRG Co.; Kaitlin Bellon, Amegy Bank, N.A.; Deborah Bronner-Westerduin, Klein ISD; Rachel Cook JD, Rachel P. Cook Associates, PLLC; Tina Dealy, Lone Star College; Harold Ellis, city of Tomball; David Esquivel, city of Tomball; Dr. Christina Hagerty, LSC-CyFair; David Kimberly, Klein ISD; Diana Kimberly, Spring ISD; Steven Kolar, LSC-North Harris; Stephanie Migl, Cypress-Fairbanks ISD; Candis Mohr, AAA Plumbers; Verna Noack, Reach Unlimited, Inc.; Ava Ray, Silpada Designs; David Riddle, Commissioner R. Jack Cagle, Harris County Precinct 4; Christina Robinson, LSC-University Park; Clayton Roper CCIM, Caldwell Cos.; Syliva Saumell-Baston, Tomball Regional Medical Center; Dr. Marie Sesay, LSC-Kingwood; Timika Simmons, Harris County Housing Authority; Kathleen Snyder, Harvest Home/Inwood Crossing; Toby Stephens, Greenspoint District; Marilyn Sullivan, Cypress-Fairbanks Funeral Home; Joseph Theis, Super Chicken; B. Linh Tran PE, Costello, Inc.; Terry Vaughn Jr., Walgreens; and Dr. Quentin Wright, LSC-Tomball.
Businesses and organizations who participated as drop-off locations to collect the teddy bears include LSC-University Park, Cypress-Fairbanks ISD, Klein ISD, Strack Intermediate School, Caldwell Cos., Houston Northwest Chamber of Commerce, Cy-Fair Chamber of Commerce, Greater Tomball Area Chamber of Commerce, city of Tomball, Amegy Bank Greenspoint, Amegy Bank Tomball, Tomball Woodforest Bank, The Houston Apartment Association, Starbucks, Santa Fe Flats, Super Chicken, AAA Plumbers, Reach Unlimited and Wal-Mart.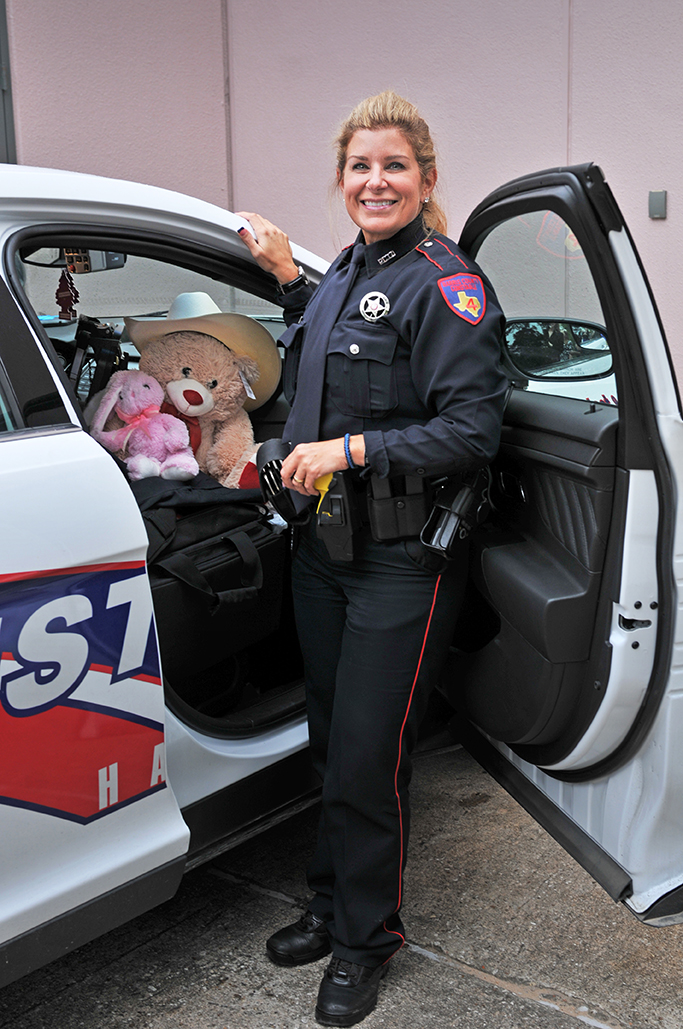 Harris County Constable Precinct 4 Officer C.G. Cummins places donated teddy bears into her vehicle which can be used to help comfort small children who are victims of a crime or accident.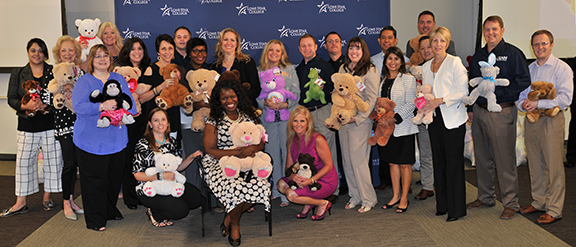 Members of the LNH Class XXI donated more than 1,600 teddy bears to FEMA and Harris County Precinct 4 and 5 Constable's offices.
Leadership North Houston was formed in 1995 when several area chambers of commerce and Lone Star College partnered together to meet the need for a leadership program in the north Houston area. The selection process allows for 30 participants to be chosen from the emerging and existing leaders who apply for the program. All applicants must be nominated by an LNH Alumni, LNH or LNHAA board of directors. Following completion of LNH, program graduates are encouraged to join the Leadership North Houston Alumni Association.
Known for its leadership, innovation and steadfast commitment to student success, Lone Star College provides high-quality academic transfer and workforce education / career training programs to more than 83,000 credit students each semester, and a total enrollment of 95,000 students. LSC is training tomorrow's workforce today and redefining the community college experience to promote student success and economic prosperity. Stephen C. Head, Ph.D., is the chancellor of LSC, the largest institution of higher education in the Houston area, which consists of six colleges, eight centers, two university centers, Lone Star Corporate College and LSC-Online. To learn more visit LoneStar.edu.
####