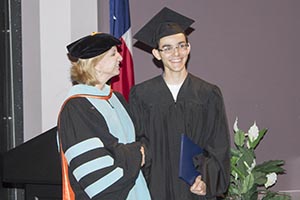 (
Left to right: 
Dr. Rebecca Riley, Lone Star College-Montgomery president and Colby Fagan) Colby Fagan receives his certificate at LSC-Montgomery during the 2016 GED Graduation. Fagan was also awarded a $500 scholarship to attend the college.
Fifty-eight Montgomery County community members took
an important step toward new opportunities as they earned their GED certificates. Thirteen walked across the stage to receive their certificate at the GED Graduation celebration at Lone Star College-Montgomery.
Each graduate had a story about defying the odds, working to better their lives and taking care of their family. Sydney Atkinson did not go to high school; she took two GED tests then lost the motivation to continue. "When I realized I was "expecting," I wanted to get my GED certificate before I had my son," said Atkinson. "I want him to be proud of me. I want to go to college and get a good job for him. I now encourage everyone to go out and get your high school diploma or GED certificate." Atkinson plans on continuing her education at LSC-Montgomery and is exploring a career in psychology or nursing.
Christopher Wheeler wanted to become a heating, ventilation and air conditioning (HVAC) technician at a local trade school, but learned he was missing a key entry requirement. "I needed to get my GED certificate before I could enroll," said Wheeler. "I decided to come to LSC and get it done. Now I will go on, complete my training."
Two graduates Colby Fagan and Mauricio Resendez were each awarded a $500 dollar scholarship to attend LSC-Montgomery. Students heard from Mauricio Resendez as he talked about his health struggles that kept him from completing high school. Crippling stomach problems coupled with severe depression and anxiety drove him to try to commit suicide. Resendez talked about efforts to feel better and his experience with several doctors. "Finishing your GED is not hard," said Resendez. "If you set your mind to it, you will pass and start your future. Stay motivated and be happy that you can continue learning." Resendez will attend LSC-Montgomery in the fall, his goal is to transfer to Baylor University and become a doctor to help others with chronic health issues.
Keynote speaker Dr. Ronald Trowbridge talked about reading student thank you notes and how he personally reached out to students to encourage them. He urged students and the GED graduates to never give up on their education. Trowbridge serves as secretary on the Lone Star College Board of Trustees.
The GED test is designed to measure the skills and knowledge equivalent to a high school course of study. It has served as a bridge to education and employment opportunities for an estimated 19 million people since 1942. Today, approximately one in seven high school diplomas issued in the United States each year is a GED certificate. The test consists of four content areas and takes approximately seven and a half hours to complete.
LSC-Montgomery offers the GED review course and the GED test — both in English and in Spanish at Lone Star College-Conroe Center. Students must be 18 years of age or have parent or guardian permission to take the test.
For more information about the LSC-Montgomery GED program visit www.LoneStar.edu/GED.
LSC-Montgomery is located at 3200 College Park Drive, one-half mile west of Interstate 45, between Conroe and The Woodlands. For more information about the college, call 936.273.7000, or visit LoneStar.edu/Montgomery.
Known for its leadership, innovation and steadfast commitment to student success, Lone Star College provides high-quality academic transfer and workforce education / career training programs to more than 83,000 credit students each semester, and a total enrollment of 95,000 students. LSC is training tomorrow's workforce today and redefining the community college experience to promote student success and economic prosperity. Stephen C. Head, Ph.D., is the chancellor of LSC, the largest institution of higher education in the Houston area, which consists of six colleges, eight centers, two university centers, Lone Star Corporate College and LSC-Online. To learn more visit LoneStar.edu.