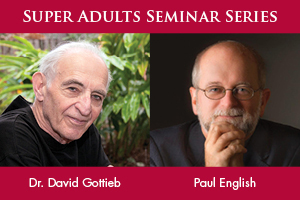 Dr. David Gottlieb is organizing and presenting at "Pathways to Aging and Beyond: Seminars for 'Super Adults'" at Lone Star College-University Center at The Woodlands Tuesdays from 1-2 p.m. beginning Sept. 13 through Oct. 25
Internationally recognized composer, pianist, producer, and educator Paul English, will highlight the role that jazz can play in the aging process on Tuesday Oct. 25 from 1-2 p.m. in building D on LSC-Montgomery Campus.
America is obsessed with being young, looking beautiful
and staying hip, but aging is inevitable and the process can teach us valuable lessons. Join Lone Star College-Montgomery's Academy of Lifelong Learning (ALL) as we look into the challenges and triumphs of the elderly or 'Super Adults' with "Pathways to Aging and Beyond: Seminars for 'Super Adults.'" The series will be held Tuesdays from 1-2 p.m. beginning Sept. 13 through Oct. 25 at LSC-University Center at The Woodlands.

 

"As I have been aging, I have gotten more interested in the attitudes, treatment and culture provided for older people," said Dr. David Gottlieb, series organizer and presenter. "Dying is inevitable, but when it comes to how we age, we have a lot of options."

This first-of-its-kind series will discuss a variety of topics hosted by different presenters. Some tackle the uniqueness of aging for women, the ability to live in one's own home independently and the role music and jazz can play in the aging process.

"These Seminars for 'Super Adults' will provide our community with an opportunity to discuss important questions about life and aging," said Dr. Rebecca Riley, LSC-Montgomery president and seminar presenter. "Dr. Gottlieb is a respected member of our community, and we are lucky to have him sharing his perspective and overseeing these events on our campus. Each session will highlight a different lens through which to view aging with the help of nationally known authors and speakers as well as local experts. The lessons learned will warrant serious reflection long after the seminars are over."

Dr. Gottlieb believes in encouraging scholarly growth for the older set.

"The best thing that can happen to people as we age is to face more intellectual challenges," said Dr. Gottlieb. "The more you use your brain, the slower your brain deteriorates and an active brain has been proven to increase your longevity. Throughout this series we want older people to know they are of great value. They are a very essential human resource for our society. 'Super Adults' have done so much for us and our culture, in return we should be doing as much to help them."

The seminar list and dates are as follows:

Sept. 13 'Super Adults' and their impact on American culture with Dr. David Gottlieb and Dr. Rebecca Riley

We will discuss how to deal with youth and aging.

Sept. 20 American women and the aging process with Dr. Rebecca Riley

Topics discussed include: "aging gracefully," "women as 'objects of the gaze' in art history" and "the anti-aging industry and women."

Sept. 27 The aging brain: what does it mean to the 'Super Adult' with Dr. Peter Shedden

This presentation will outline ways you can maintain brain fitness.

Oct. 4 Aging in place with Bruce Cunningham

The presentation will discuss the stages of life and how an individual's needs and perspectives change as they age.

Oct. 11 Family dynamics and aging with Kevin Walden

This presentation will discuss how eldercare can impact the dynamics of family relationships including sibling support issues such as burnout, inheritance fights, power struggles, and more.

Oct. 18 Aging and spirituality with Tim Cowen and Dr. Sondra Barrett

Hear from a diverse panel that will give different perspectives on important questions like: Who are we? Why are we here?

Oct. 25 Music and aging with Paul English and Adele Gorody (*Will be held in building D on LSC-Montgomery Campus)

During this musical program, internationally recognized composer and pianist, Paul English, will show attendees the importance of exercising your brain to explore and experience music.

All events are from 1-2 p.m. at LSC-University Center at The Woodlands 3232 College Park Drive, The Woodlands, Texas 77384, unless otherwise specified. The seminars are part of the Academy of Lifelong Learning (ALL) and are supported by the Regional Resource Center for 'Super Adults.' Attendees need to register with ALL, which requires a $35 annual registration and participants must be ages 50+. After the registration fee, ALL courses are free for the year.

LSC-Montgomery is located at 3200 College Park Drive, one-half mile west of Interstate 45, between Conroe and The Woodlands. For more information about the college, call 936.273.7000, or visit LoneStar.edu/Montgomery.

 

Known for its leadership, innovation and steadfast commitment to student success, Lone Star College provides high-quality academic transfer and workforce education / career training programs to more than 83,000 credit students each semester, and a total enrollment of 95,000 students. LSC is training tomorrow's workforce today and redefining the community college experience to promote student success and economic prosperity. Stephen C. Head, Ph.D., is the chancellor of LSC, the largest institution of higher education in the Houston area, which consists of six colleges, eight centers, two university centers, Lone Star Corporate College and LSC-Online. To learn more visit LoneStar.edu.