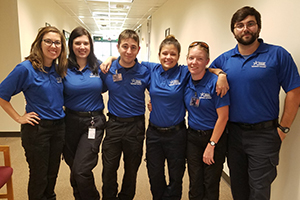 Six students (From left to right: Megan Chladny, Dannielle Reinke, Brandon Valenzuela, Melanie Cascia, Sarah Nakunz, and Anthony Burkhardt) completed LSC-Montgomery's challenging 14-month hybrid program. All six had a 100 percent pass rate on their skills test and are on their way to saving lives in our community.
The Lone Star College-Montgomery Emergency Medical
Services Department graduated its first class of six paramedics. The students completed the challenging 14-month hybrid paramedic program and passed their National Registry Testing. They are now on their way to saving lives in the local community.

"I am very excited for them to launch," said Dr. Kelly Weller, emergency medical services program director at LSC-Montgomery. "We teach students the advanced knowledge and skills they need to become skilled emergency providers. As a field, paramedics are getting more expansive and the required knowledge base is ever growing. It has been fun to watch the position progress as a career and to watch the curriculum progress at LSC-Montgomery."

The paramedic program at LSC-Montgomery is expanding. There are currently 17 students in the next graduating class. Dr. Weller is looking for students who like to be in charge.

"Students need to be able to jump in," said Weller. "Patients want you to be frank, honest, quick, competent, caring, and well trained like these graduates. Being a paramedic means you have the unique ability to put on a variety of different hats to meet the needs of the patient and the community. You need to know how to lead your team through a call. It is an exciting career that is growing quickly in our area."

For more information on the Paramedic Program at LSC-Montgomery visit lonestar.edu/ems-dept-montgomery.

LSC-Montgomery is located at 3200 College Park Drive, one-half mile west of Interstate 45, between Conroe and The Woodlands. For more information about the college, call 936.273.7000, or visit LoneStar.edu/Montgomery.

Known for its leadership, innovation and steadfast commitment to student success, Lone Star College provides high-quality academic transfer and workforce education / career training programs to more than 83,000 credit students each semester, and a total enrollment of 95,000 students. LSC is training tomorrow's workforce today and redefining the community college experience to promote student success and economic prosperity. Stephen C. Head, Ph.D., is the chancellor of LSC, the largest institution of higher education in the Houston area, which consists of six colleges, eight centers, two university centers, Lone Star Corporate College and LSC-Online. To learn more visit LoneStar.edu.