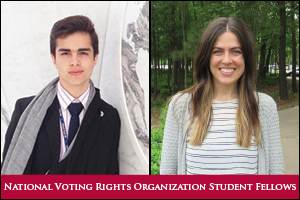 LSC-Montgomery student Natalia Hazelwood is working to increase voter turnout, voter registration and civic education on campus.
LSC-Montgomery student Jasym Mireles is helping organize campus and community events to increase civic engagement among students.
The national voting rights group, Fair Elections Legal
Network has selected Lone Star College-Montgomery students, Jasym Mireles and Natalia Hazelwood as Democracy Fellows. Both are working to increase voter turnout, voter registration and civic education on campus. As Democracy Fellows they are also putting a specific emphasis on involving Asian Pacific Islander students in the political process.
"This work is exciting and important," said Mireles. "The initiative is a national effort and LSC-Montgomery is the only college in Texas that was elected to be part of it."
Mireles was born in Guadalajara, Mexico and moved with his family to Texas when he was six years old. He plans to pursue degrees in business and international relations and currently serves as the President of the Honors College, Treasurer of the Rotaract Club and member of the Phi Theta Kappa Honors Society at LSC-Montgomery. Mireles participated in National Model U.N. where he received a position paper award.
Hazelwood grew up in the foster care system, an experience that provided her with the unique opportunity to practice perseverance in the face of hardship.
"I have seen inequality and injustice in my past, so my goal is to advocate for human rights everywhere," she said. "I continually use this passion to drive me toward success."
Hazelwood plans to pursue a degree in international relations. She is enrolled in the Honors College and serves as the Vice President of the Student Government Association at LSC-Montgomery. She interned with the Woodlands Chamber of Commerce and has participated in Rotaract Club and National Model U.N. where she received the Outstanding Delegate in Committee award.
"We recognize that students' voices are the least represented in the polls and we want to work to improve that," said Hazelwood. "It promises to be an exciting semester."
Both Hazelwood and Mireles are collaborating with Asian Pacific Islander groups in Houston while creating impactful, democratic engagement events for all students throughout the semester.
"College students are an important part of the electorate, but many do not vote," said Michele Richey LSC-Montgomery sociology professor and campus civic engagement coordinator. "By offering interesting on-campus events that give them important information, we can help them see the power they have as voters. Jasym and Natalia are working hard to make sure this campus empowers all students, faculty, staff and the community to become better citizens."
For more information on the Democracy Fellows visit campusvoteproject.org/democracy-fellows
LSC-Montgomery is located at 3200 College Park Drive, one-half mile west of Interstate 45, between Conroe and The Woodlands. For more information about the college, call 936.273.7000, or visit LoneStar.edu/Montgomery.
Known for its leadership, innovation and steadfast commitment to student success, Lone Star College provides high-quality academic transfer and workforce education / career training programs to more than 83,000 credit students each semester, and a total enrollment of 95,000 students. LSC is training tomorrow's workforce today and redefining the community college experience to promote student success and economic prosperity. Stephen C. Head, Ph.D., is the chancellor of LSC, the largest institution of higher education in the Houston area, which consists of six colleges, eight centers, two university centers, Lone Star Corporate College and LSC-Online. To learn more visit LoneStar.edu.