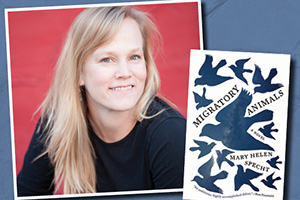 Mary Helen Specht was named one of Texas Monthly's "ten writers to watch." She will speak about her novel "
Migratory Animals
" Thursday, Oct. 20 at 7 p.m. at Lone Star College-Montgomery in Building G Room 102.
Hear from one of Texas Monthly's "ten writers to watch" at
Lone Star College-Montgomery during the next Writers in Performance event. Mary Helen Specht will speak about her novel
Migratory Animals
Thursday, Oct. 20 at 7 p.m. in Building G Room 102. The novel tells the story of a group of 30-somethings struggling with choices that could change the trajectory of their lives.
"Mary Helen Specht brings a fresh voice to the LSC-Montgomery campus, one that speaks to the familiarity of Texas as well as the excitement of a new country and personal discovery," said Dr. Molly Lasco, LSC-Montgomery English professor. "Migratory Animals, set in Austin and Nigeria, grapples with the concept of home and whether it is a physical place or state of mind. Reading the book gives one the sense of tethered flight whereby the individual seeks to find a true self while maintaining emotional connection with family and personal history. This is a struggle that many of our students can relate to as they attempt to balance their family life with their academic aspirations."
Migratory Animals won the Texas Institute of Letters Best First Fiction Award and the Writers' League of Texas work of Best Fiction.
"I'm very excited to come to LSC-Montgomery and share my novel," said Specht. "I hope that it inspires a fun discussion about home and duty, connection and belonging in an increasingly global world."
Specht was born and Abilene, Texas and now lives in Austin where she teaches creative writing at Saint Edwards University. She has a B.A. in English from Rice University and an M.F.A. in creative writing from Emerson College in Boston, Massachusetts. Her writing has appeared in numerous publications, including: The New York Times; The Colorado Review; Michigan Quarterly Review; The Southwest Review; Florida Review; Southwestern American Literature; World Literature Today; and The Texas Observer.
For more information on the Specht visit maryhelenspecht.com
Writers in Performance is a reading program dedicated to bringing the most distinguished minds and their bright visions to the citizens of Montgomery County through thought-provoking literature and cultural diversity. The series' events are made possible by the partnerships between Lone Star College-Montgomery, SWIRL literature and arts journal, the Conroe Commission on Arts & Culture, the Greater Conroe Arts Alliance, and the Montgomery County Literary Arts Council.
LSC-Montgomery is located at 3200 College Park Drive, one-half mile west of Interstate 45, between Conroe and The Woodlands. For more information about the college, call 936.273.7000, or visit LoneStar.edu/Montgomery.
Known for its leadership, innovation and steadfast commitment to student success, Lone Star College provides high-quality academic transfer and workforce education / career training programs to more than 83,000 credit students each semester, and a total enrollment of 95,000 students. LSC is training tomorrow's workforce today and redefining the community college experience to promote student success and economic prosperity. Stephen C. Head, Ph.D., is the chancellor of LSC, the largest institution of higher education in the Houston area, which consists of six colleges, eight centers, two university centers, Lone Star Corporate College and LSC-Online. To learn more visit LoneStar.edu.