Stop by to see the energy and movement of Dave Clark's artwork in the "Reflections, Contemplation and Angst" exhibition on display Oct. 25 through Nov. 15 at Lone Star College-CyFair.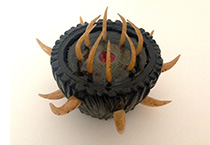 A graduate of Oklahoma State University, Clark currently lives in Texas working as an artist and high school educator.
"Clark's artistic style focuses primarily on sculpting due to the physical energy and sense of movement used in the process," said James Campbell, LSC-CyFair's Bosque Gallery director. "Sculptures appeal to Clark, because he creates objects that actually exist in physical space and interact with the real world."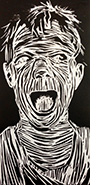 After studying architecture, graphic design and fine art in college, Clark spent more than 20 years as a professional artist in the entertainment industry. His varied experiences play a part in the materials, ideas and subject matter of his work. In addition, many of his sculptures could be considered models or concepts for much larger public works of art he hopes to do in the future.
A reception from 5 p.m. to 7 p.m. Oct. 27, with an "Artist Talk" from 6:30 p.m. to 6:45 p.m., will be held in the gallery.
The Bosque Gallery is located in the Center for the Arts building on the Barker Cypress campus at 9191 Barker Cypress.
For gallery hours and information, go to LoneStar.edu/bosquegallery or call 281.290.5273.