Two November speaker events focused on strategies for student success, including acing courses, will be held at Lone Star College-CyFair.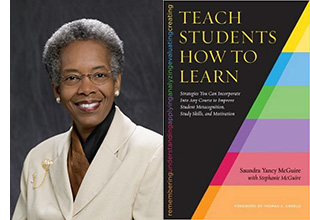 "If you are you looking for practical strategies to help your students learn or maybe you are a student struggling academically and want new ways to succeed in your courses, you won't want to miss, Dr. Saundra Yancy McGuire's compelling presentations on Metacognition and Motivation," said Stephanie Moss, LSC-CyFair's Director of the Teaching and Learning Center. 
A retired Assistant Vice Chancellor and Professor of Chemistry at Louisiana State University, Dr. McGuire is the Director Emerita of the Center for Academic Success. She is also author of the book, Teach Students How to Learn: Strategies You Can Incorporate in Any Course to Improve Student Metacognition, Study Skills, and Motivation.
In her presentation "Keys for Increasing Student Success" for teachers, she will share how to play an active role in facilitating student success in their classroom from 6 p.m. – 7:30 p.m. Nov. 10. 
In a second presentation "The Key to Acing Courses" for students, she will share easy ways to implement proven approaches for success in even the most difficult courses from 9 a.m. – 10:30 a.m. Nov. 11.
Both sessions will be held in the Conference Center at LSC-CyFair located at 9191 Barker Cypress.
For information, email Stephanie.R.Moss@LoneStar.edu.