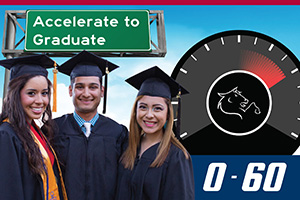 Lone Star College-Montgomery urges students to accelerate to graduate on time.
Spring and winter-mini registration has begun at Lone Star
College-Montgomery and campus officials are once again encouraging students to take 15 credit hours as part of the 'zero to sixty' campaign.
The 'zero to sixty' campaign was launched by campus leaders to help students complete 60 credit hours within two years, which would put them on the fast track to graduation. The campaign was founded upon national and state data which showed students who take 15 credit hours are more likely to perform better academically than those who take fewer hours. 
"National data shows us that students who take 15 credit hours are not only more invested in taking additional credit hours, but they also spend more time on campus so they end up with higher grade point averages than students who take less credit hours," said Dr. Michael Chavez, vice president of student success at LSC-Montgomery. "Also, when we pulled data for LSC- Montgomery students who were part-time versus data of students who are full-time, the data showed higher grade point averages for full-time students."
Since the campaign's inception earlier this year, LSC-Montgomery has reported an increase in students taking 15 credit hours. This spring school official are looking forward to more students taking a full-time course load to ensure their academic success.
Students can talk to any school counselors or advisors in order to learn more about the 'zero to sixty' campaign. The financial aid office is available for students to assist them with tuition and books for taking 15 credit hours. 
Known for its leadership, innovation and steadfast commitment to student success, Lone Star College provides high-quality academic transfer and workforce education / career training programs to more than 83,000 credit students each semester, and a total enrollment of 95,000 students. LSC is training tomorrow's workforce today and redefining the community college experience to promote student success and economic prosperity. Stephen C. Head, Ph.D., is the chancellor of LSC, the largest institution of higher education in the Houston area, which consists of six colleges, eight centers, two university centers, Lone Star Corporate College and LSC-Online. To learn more visit
LoneStar.edu
.