Lone Star College-CyFair students received financial help with college after a debilitating accident and hard work to continue their education despite life struggles.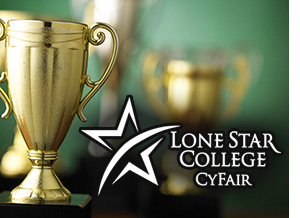 Marian Liebling, and her husband Scott, established the Didwell-Liebling Opportunity Scholarships in 2012 in honor of their parents and family after hearing first hand student stories of financial need.  Two of the scholarships are awarded in honor of the late Dr. Jim Brown, a former LSC-CyFair professor and Patrick Morris, a family friend, mentor and generous donor.
This fall's scholarship recipients are Duan Fairfax, Braxton Fonner, Idalia Hernandez, Ayoola Onifade, Puneet Rajput and Henil Shah.
"These recipients are a remarkable group of Lone Star College-CyFair students," said Liebling. "Each of them have persevered through obstacles in the pursuit of their education. It has been a joy to meet each one and share in their love of education."
Fairfax, a non-traditional student, who has suffered physical and economic setbacks in his life, has a steely determination to learn and earn his degree, said Liebling.
A motorcycle accident when a woman ran a stop sign left Fairfax with a broken body, in a coma and on life support for two months, as well as a prognosis that he'd be in a vegetative state for life. However, Fairfax said he beat those odds and has overcome every other obstacle since.
"It's something about my soul that when someone says I can't, a fire burns inside that says I can," he said. "I want to be the first to graduate college in my family and show the world that individuals with disabilities can make something of their lives – to never give up, to keep pushing and striving for your dreams and ambitions."
Fascinated with how things work, taking them apart and putting them back together, as well as a desire to keeping people's information secure, this Honors College student is majoring in computer science with an emphasis on information systems and cyber security.
Liebling said Fonner, an Honors College student and recipient of the Dr. Jim Brown Memorial Scholarship, has a keen interest in government and public policy.
In his pursuit of a career in international law, Fonner said he plans to earn degrees in philosophy, politics and economics as well as to apply his education toward humanitarian efforts.
The effects of this scholarship are multifaceted, he said. Not only does it validate the hard work done academically, but it lessens stress and boosts confidence assuring him that what he's doing is the right path.
 "As an independent student working two jobs and attending classes full time while providing for living expenses, it goes without saying that this scholarship eases the burden greatly," said Fonner, whose family lives out of state. "The scholarship assists me in reaching my goals, securing my ability to continue to attend LSC."
Liebling said Hernandez is juggling a heavy schedule of work and helping support her family, while taking classes. A recipient of the Patrick Morris Memorial Scholarship, Hernandez has plans to major in Business Administration.
The last three recipients are interested in the medical profession. Onifade is an international student from Nigeria with plans to become a nurse anesthetist, while Rajput an Honors Program student, who is majoring in biotechnology, and Shah, who is majoring in biology, are both pursuing careers as doctors.
LSC-CyFair offers many scholarship opportunities with varying requirements and award amounts thanks to the generosity of community partners from area individuals, such as the Lieblings, to numerous companies and organizations.
For available scholarships and application information, contact Tranell Milburn at 281.290.5947 or go to LoneStar.edu/scholarships-cyfair.