Lone Star College-CyFair's Team Cyclone, recently earned top recognition and $7,800 in scholarships at the Texas Space Grant Consortium's 15th annual Design Challenge.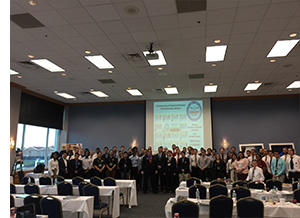 Dung Bui, Michael Cao, Christopher Geisheker (team leader) Alex Holcombe and Bryce Reynolds (deputy leader) took first place in four of the five categories competing against 13 other teams, primarily four-year universities such as Lamar University, Texas State University, University of Houston and University of Texas.
The annual TSGC Design Challenge provides undergraduate students an opportunity to propose, design, and fabricate a solution for research objectives of importance to NASA and its mission.
Associate Professors of Engineering Yiheng Wang and Jared Cammon co-advised this student team tasked with designing a drill that could go 20 meters deep with an automated self-cleaning of augers system, specifically for the Mars Project. The team was also paired with a NASA mentor, Dr. Humbolt Mandell, a 40-year NASA veteran who received NASA's Exceptional Service medal twice and worked on the team which developed the plans for the original Mars missions.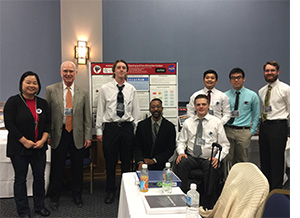 "Our students won first places in the poster, presentation, overall design team and audience favorite categories and second place in the best modeling category," said Wang. "We're very proud of what these students have achieved. Nearly sweeping the whole competition not only helped change the stereotype of community colleges, but in my opinion, could motivate the other teams when the challenge returns for the spring semester."
This two-semester project is a collaboration of LSC-CyFair's Engineering and LSC-Cypress Center's Advanced Technology departments - consisting of four Engineering students, one Machining Technology student and one Mechanical Drafting Technology student - that worked very well as evidenced by the recent competition, said Cammon.
"I was very impressed by the caliber of our students on the team," he said. "Even though they needed plenty of guidance they were highly motivated, willing to do more than what was required, and all of them put in a great deal of work to complete the project."
Wang said "I believe collaborating with Advanced Technology gave us a unique edge in this challenge because students were able to combine engineering design and manufacturing aspect and definitely apply what was learned in theory in class to actual practice with this project."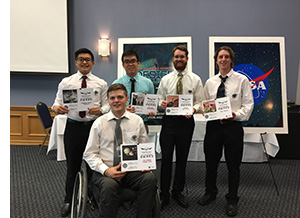 In addition to earning scholarship money, this project was good for the students' resume, said Wang. The high-caliber experience and outreach component – volunteering with LSC-CyFair's Space Week, robotics demonstration and annual Cy-Fest events - will help them in applying for transfer to other universities and with possible internships.
With plans to transfer to Texas A&M University, Geisheker described the competition success as "unbelievable", "a tangible achievement" and "something meaningful" beyond the awards.
"This project taught us about the engineering process and how things go outside the classroom. The reality of defining your own goals and holding yourself accountable to them was a unique experience," he said. "As team lead, I got a good taste of team leadership and learning how to effectively manage a team and keep the logistics of large scale plans organized."
Geisheker has loved engineering since he was a boy trying to figure out how the mechanics of movie props worked and how they would function in the real world. Since 2010 when he was diagnosed with muscular dystrophy, he's had his sights set on improving exoskeleton research and development.
"The wheelchair is a great tool, but never walking again seems like a backwards reality when we can send people to Mars," he said. "It's time for assistive technology to move into the modern age."
Wang said this spring, Team Cyclone will be working on a 3d printer model of their project to create an actual prototype of the drilling system.
Registration for spring semester classes that start Jan. 17 is under way. For information, go to LoneStar.edu/registration.