Congratulations to the Lone Star College-CyFair's Staff Excellence Award winners – Shaheen Ansari, Earl Brewer III, Kelly Ann Norton and India Powell - for their outstanding contributions to the college and vision of excellence.
Ansari, Brewer and Norton all began with the Lone Star College System when it was known as the North Harris Montgomery Community College District.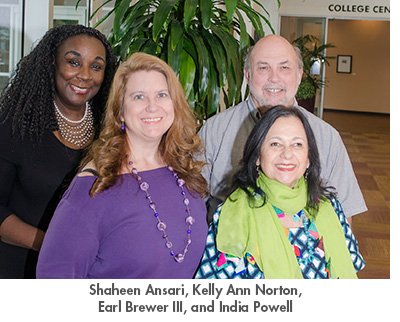 Ansari served as the district's Educational Diagnostician from 1989-1997. She started at LSC-CyFair in 2009 as a Program Administrator, Achieving the Dream in Student Learning. In 2011, she served as an Academic Advisor under Advising/Counseling Career and Disability Services. In August 2012 she moved to Academic Affairs where she is still an Early Alert Advisor for the Academic Success Center.
"Throughout my career, I have been an advocate in promoting equal access for individuals with special needs," said Ansari, this year's Part-time Staff Excellence Award recipient. "I enjoy promoting educational success as well as interacting and connecting with people, especially students."
Brewer began part-time employment at LSCS in April 2002 at the LSC-Fairbanks Center, which opened first before the comprehensive Barker Cypress campus opened the next year. He was hired on as a full-time Maintenance Technician in August 2002 at the LSC-Fairbanks Center, where he now holds the title of Maintenance Specialist III.
"I enjoy cultivating collaborative relationships in order to proactively address challenges and opportunities and find solutions," said the center's lead Maintenance Technician.
Norton works in the College Relations Department at the Barker Cypress campus, where she has served as LSC-CyFair Media Relations Coordinator since April 2004. She handles the internal and external communications for the college and its satellite center campuses.
"My passion is writing," said Norton. "I have seen the college's impact in this community from inception to serving more than 21,000 students and I enjoy telling that story and the stories of academic and career success our employees and students are achieving."
Powell started at the Barker Cypress campus in 2011 as the Financial Aid Manager for the Financial Aid Office.  Currently she serves as the Financial Aid Specialist and oversees the financial aid daily operations at the LSC-Cypress Center.
"The one aspect I love most about my position is the joy of helping students realize that their dreams and aspirations are reachable if they aim high and continue striving toward excellence," she said. "Financial aid assistance can serve as a means in assisting them in reaching their eternal goals."
These dedicated staff members will be among those recognized at system-wide and college-wide award events later this spring.
For information on LSC-CyFair, go to LoneStar.edu.