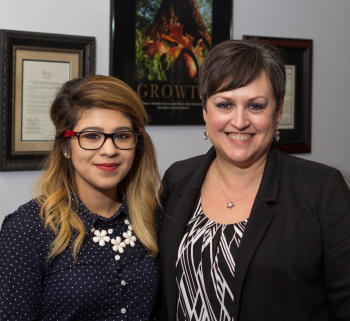 "Having the opportunity to be a student here has been such a blessing," Castellanos wrote about LSC-Tomball in her award-winning essay. She focuses on the memorable and effective instructors with whom she has studied and the advisors who have help guide her on her educational journey. "The teachers and the staff have just been the most supportive and caring people I've ever met."
She cites professor Richard Becker whose "passion for Criminal Justice just oozes out of him like jelly out of a donut and you just cannot help but absorb some of that passion." She credits Emmitt Carter, her TRiO Student Support Services advisor with her advancements toward personal growth. "He believed in me when I didn't even believe in myself," she wrote.
Involvement in campus life has continued to fuel her zeal for college life at LSC-Tomball. "It seems the more involved I get, the more I love my school and the sadder I get that I will have to transfer away to Sam Houston State University." Her volunteer work with the LSC-Tomball Days of Service initiative proved particularly rewarding this year. "For me, volunteering has not been about feeling good about myself, but rather doing what I can to help my community and showing them that we care and we are here for one another. Volunteering through Lone Star College has opened to many opportunities for me as far as networking with people outside of school, scholarships, and meeting some of the kindest people in the world.
Castellanos plans to attend Sam Houston State University to pursue a Master's degree in criminal justice. Eventually, she hopes to eventually earn a doctorate and work as a criminologist, researching crime and the pasts of criminals to determine why it is they do what they do. "Lone Star College has helped shape me into the person I am today and, I have to say, I am pretty proud of who stares back at me in the mirror."
Each year the Lone Star College Foundation hosts the Chancellor's Breakfast, where endowment donors are invited to be honored and to hear first-hand accounts of student success from student essay winners. One essay winner is chosen each year from each of the six Lone Star Colleges.
Lone Star College-Tomball is located at 35000 Tomball Parkway, at the intersection of SH 249 and Zion Road. For more information about the college, call 281.351.3300 or visit LoneStar.edu/Tomball.
[Photo – "LSC-Tomball Foundation Essay Contest winner Janeth del Carmen Castellanos with college president Dr. Lee Ann Nutt."]