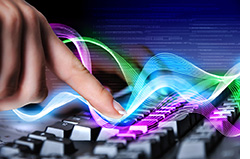 Interested in a new career or obtaining industry certification working with cutting-edge technology? Start by attending the Lone Star College-CyFair Cisco Academy Program Open House set March 2.
The Cisco Academy Program provides students both the fundamentals and advanced techniques of Cisco networking as well as opportunities to learn collaboration and problem-solving skills through hands-on activities and network simulations.
Success in academy courses can lead to certifications in Cisco Certified Network Associate (CCNA), CCNA-Security, CCNA-Voice, CCNA Data Center, Cisco Certified Network Professional (CCNP) as well as Cisco Certified Design Associate (CCDA) and Certified Design Professional (CCDP) certifications.
Program graduate Reynaldo Gonzalez received an internship that led to a full-time job at CISCO, a leading #1 company with a work environment that allowed both technical and customer facing skills.
"This industry allows people to be able to work with some of the latest/newest/coolest technologies, products and features available for a network industry," he said. "You can be at the cutting edge of new solutions and be able to work with them in a lab, test them, play with them and see how they work and interact."
Leaving a sales and management career to pursue a promising and secure IT career, Tina Koteel graduated LSC-CyFair's Cisco Academy Program and is now a Network Support Engineer at IBM.
"I maintain and troubleshoot the steady state of our global cloud infrastructure scattered among datacenters and PoP locations around the world," said Koteel, who has had two promotions in two years. "I have the great fortune of working with bleeding edge technology and some of the most complex implementations of network protocols out there."
Among the industry benefits Gonzalez and Koteel have seen are career stability, upward mobility, opportunities to be recruited, extensive education and career resources and working with the "latest, newest, coolest technologies, products and features available."
"Since being in this industry, I've been able to achieve a huge personal goal of being a first-time homeowner," said Koteel. "I closed on the house this past November."
Both Gonzalez and Koteel also share their real-world industry experience with students as adjunct instructors for LSC-CyFair's Cisco Academy Program
Gonzalez said LSC-CyFair's program provides an edge to students who embrace it and work hard to learn and understand the material.
"Students (young, professional and older in age) do not need to have a background in network or know networking to succeed in this field," he said. "You just need the drive and desire to want it."
To start a new career in IT, attend the open house and tour the Cisco labs, visit with instructors and obtain information about the Cisco Academy Program.
The open house will be held from 6 p.m. to 9 p.m. in the Technology Building, room 114 on the LSC-CyFair campus at 9191 Barker Cypress.
For information on this event or the Cisco Networking Academy, contact Donna Ivey at Donna.B.Ivey@LoneStar.edu or 281.290.3468.