Join Immigration Attorney Uchenna Paul at Lone Star College-CyFair's Center for Civic Engagement (CCE) lecture April 25 for answers to a myriad of immigration-related questions.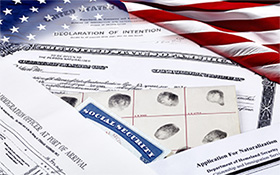 Drawing on 20 years of experience, this practicing immigration attorney here in the Houston will answer audience questions on visas, green cards, the process of becoming a citizen, deportation and other legal questions after her presentation.
This program is set from 1 p.m. – 2 p.m. in the Technology Building room 101-102 on the LSC-CyFair campus at 9191 Barker Cypress.
Return to campus April 26 at 1 p.m. for some intimate and inspiring stories of cross-cultural encounters at the "Faces of Immigration Student Experience Panel Discussion." Contact Professor Mayia Shulga at 281.290.3548 for information.
One of the CCE's goals is to get people thinking about actions they can take to address challenges in their immediate community and the broader society.
For information on the April 25 event, contact Professor Sharon Bippus via phone at 281.290.5938 or email Sharon.L.Bippus@LoneStar.edu.