Children ages 5-12 can explore Science, Technology, Engineering and Math (STEM) with STEMtastic Stations and a new "Power Hour" program Saturday, April 29 at Lone Star College-CyFair.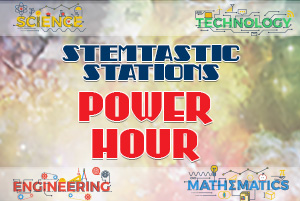 The 10 a.m. – 10:50 a.m. session is designed for ages 5-6, while the 11 a.m. – 11:50 a.m. session is designed for ages 7-10. Both sessions are limited to 30 participants.
The new Power Hour 1 p.m. – 2:30 p.m. session is designed for ages 9-12 and is limited to 20 participants.
"Join us for a fun Power Hour exploring the world of renewable energy through solar power," said Shamim Arastu, Professor of Education. "Discover how solar power works and create a mini-solar powered car."
LSC-CyFair Education Department students will partner with the children's library to host several hands-on learning events in the Conference Center at 9191 Barker Cypress. Take home activities will be given to all participants.
Parents must accompany children at the sessions and all are asked to arrive an hour in advance to receive a session ticket.
Email choffart@LoneStar.edu or call 281.290.3211 for information.