Not only is it a small world, roles sometimes reverse with time as Lone Star College-CyFair Professor Kim Lane and nurse Sonia Garza found out April 5 when Lane was admitted to HealthSouth Cypress Rehab Hospital.
"Mrs. Lane was my math angel and now our paths have crossed again; however, this time, I'm not just her former student, but her wound care nurse," said Garza. "I couldn't believe that Mrs. Lane was now my student and it was my responsibility to empower her with wound care knowledge."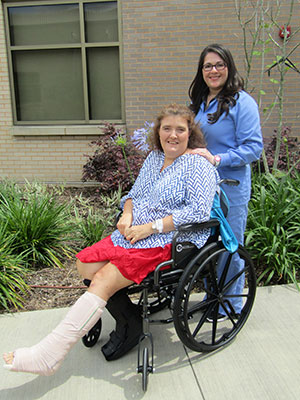 While at a conference in Galveston, a fall down some stairs left Lane with a broken tibia and fibia in her left leg, near her dislocated and fractured left ankle, as well as a badly sprained right ankle. Following emergency surgery at the University of Texas Medical Branch in Galveston to temporarily fix her injuries and to be fitted with a walking boot for the sprain, she was moved to the Cypress area hospital to receive occupational and physical therapy and await more surgery.
"This was all scary after only being in a hospital about 17 and 20 years ago to have my children," said Lane. "After arriving at the rehab hospital in Cypress April 5, I was introduced to my wound care nurse, Sonia, on my way to the therapy lab. When I saw her, I felt a little teary eyed."
Lane remembered teaching Garza some math courses back in 2008 when she was at LSC-CyFair working on her prerequisite coursework so she could apply to the college's nursing school.
"Sonia was a great student," said Lane. "She was a non-traditional student, out of high school for many years, married with two sons, and she worked so hard in the math classes that I taught her, as the math did not come easy to her."
Garza said she was a bit nervous when she first saw Lane, but it was her turn to be of help.
"I could hear the uncertainty in Mrs. Lane's voice as she spoke about her incident and her concerns of her wounds and external fixator," said Garza. "I remembered how she would always encourage me and I reassured her that she was in good hands and that I would be there for her as she progressed through the steps of healing. I could see it in her eyes that I put her mind at ease in that very moment."
As Garza assessed Lane's wounds, explained the products she'd use and the stages of healing, she was reminded of why she loves what she does.
Garza said she had always wanted to become a registered nurse, but unfortunately she did not have the financial opportunity to fulfill her dreams out of high school, so college was put on the back burner. In 1996 she graduated from a Medical Assistant program and started her medical journey at Memorial Hermann Hospital downtown in the Cardiovascular Clinic.
"Helping others was not an easy task, but the satisfaction and gratitude I receive from my patients made my days fulfilling," she said. "I could not see myself doing anything else in life. Nursing was my calling."
After 12 years in the medical field, Garza began her academic career at LSC-CyFair, where she took her required math courses with Lane, who is a 2015-16 LSC-CyFair Faculty Excellence Award Winner.
"Math wasn't my strongest subject. To this day, I still recall the songs she would sing to us in order for us to remember how to correctly set our formulas for our math problems," said Garza. "With Mrs. Lane's help I was able to improve my math skills, which has come in handy throughout my nursing career especially during my pharmacology courses. If it wasn't for her encouragement throughout each semester, I don't think I would be where I am today."
Garza graduated the LSC-CyFair Associate Degree Nursing Program with a GPA of 3.75 in 2012 and began working at HealthSouth Cypress Rehab Hospital as a staff nurse. She has since received the "Outstanding Employee Achievement Award" in 2013; was Wound Care Certified and became a Certified Rehabilitation Registered Nurse in 2014; earned her BSN from University of Texas, Arlington in 2015 and still has plans to get her MSN.
"I found my niche and love healing wounds! Being able to see wounds as they progress through the healing stages brighten my day," said Garza, who was instrumental in developing the hospital's wound care program and is now the hospital's Wound Care Coordinator. "I have truly been blessed and it all started with one person whom encouraged me to be the best - my math angel Mrs. Lane!"
Lane said after helping Garza with math, they still touched base occasionally, but now they've come full circle.
"I helped her and now she helped me," said Lane. "Sonia's a great nurse and such an awesome person!"
Lane had her second surgery around mid-April and went home about a week later with titanium plates and screws in her leg and ankle and in a hard cast, and later will be in a walking boot. She still has a couple more months before she can put any weight on the left ankle, the sprained right ankle is slowly healing and there will be much more physical therapy.
"I am just very grateful that my injuries were not worse. And I look forward to being back in the classroom teaching at LSC-CyFair," said Lane, who, in addition to coworker, student and friend visits, was seen tutoring a student while at the rehab hospital.
For information on registration for summer and fall courses or LSC-CyFair's ADN program, go to LoneStar.edu/cyfair.