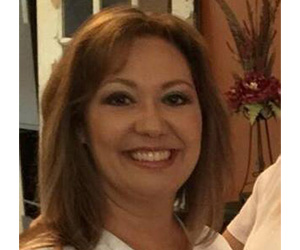 National Nurses Week began Saturday, May 6. Lone Star College-Montgomery is spotlighting Darlene Ramsdell for completing nursing school and staying in the community serving the sick as an oncology Nurse at Memorial Hermann The Woodlands Hospital.
It is 6 p.m. and instead of settling down for the night and eating dinner, Darlene Ramsdell joins her coworkers at Memorial Hermann The Woodlands Hospital for the overnight shift. Ramsdell is an oncology nurse.
"I used to work in sales," said Ramsdell. "It was profitable, but not emotionally rewarding. I am a compassion-oriented person and I wanted to do something where I could use my personality so I went to nursing school at Lone Star College-Montgomery and graduated with an associates degree in nursing in May 2015. I began working at Memorial Hermann The Woodlands in January 2016."
National Nurses Week began Saturday, May 6. Lone Star College-Montgomery is spotlighting Ramsdell for completing nursing school and staying in the community serving the sick at Memorial Hermann The Woodlands.
"Memorial Hermann excels in patient care," said Ramsdell. "Collectively all of the staff work really hard to make their patients happy and help them get healthy. As a nurse, it is amazing to know you took part in helping somebody get better. My oncology patients really touch a very special part of my heart," said Ramsdell starting to cry. "Patients have actually asked me to come visit on my night off. So there have been many times I have gone in to see them when I am not working. And there were times I walked out knowing I would never see them again. I can still see their faces and I still think of all of them often."
Montgomery County is going to need more compassionate nurses like Ramsdell. Nursing and health occupations are expected to grow in here and in surrounding counties in the coming years. This growth is due to technological advancements; an increased emphasis on preventative care; and the large, aging baby-boomer population which will continue to push the demand for quality health care services as these individuals lead more active and longer lives. Memorial Hermann The Woodlands and LSC-Montgomery are invested in getting the community the qualified nurses and medical care it needs.
There are a lot of lessons from LSC-Montgomery that Ramsdell says she sees on the job everyday.
"Professor Carol Girocco always used to say, 'Know your labs!' and it is really important." Ramsdell remembers. "You need to know what results are in normal range so you do not have to look it up, it will make you more efficient. LSC-Montgomery professors are very good at the knowledge-based curriculum and practicing in lab gave me a base to start from when I was on my own working."
Ramsdell works full time and is currently working on her bachelor's degree at the University of Texas Arlington online. She has a son who lives in Houston and daughter who lives in Los Angeles. Ramsdell has advice for students thinking about attending nursing school.
"During your time off you really need to find ways to restore and de-stress yourself whether it's sleep, reading or exercise," recommends Ramsdell. "Keep your mind, body and spirit healthy so you can provide really focused nursing care."
Memorial Hermann The Woodlands has supported LSC-Montgomery with a dedicated salary for an additional nursing faculty member for eight years. Those donations have totaled over $550,000. Nursing is among the most popular educational programs at LSC-Montgomery. LSC is advocating for legislation that would authorize the system to offer four-year Bachelor of Science in nursing. Right now, LSC-Montgomery offers several nursing programs, including the associate degree nursing (ADN) track, licensed vocational nursing (LVN), and a transition to professional nursing track for those LVNs and paramedics desiring to pursue the ADN track. Memorial Hermann The Woodlands' investment has allowed the college to provide continuous high quality instruction.
For more information on LSC-Montgomery's nursing program, visit LoneStar.edu/nursing-dept-montgomery; or call 936.273.7030.
For more information on current nursing openings at Memorial Hermann, visit memorialhermann.org/careers/
A fully integrated health system with more than 250 care delivery sites throughout the greater Houston area, including a nationally acclaimed Accountable Care Organization, Memorial Hermnn is committed to delivering safe, high-quality, patient-centered care and offers world-class clinical expertise, innovation and cutting-edge technology to all patients, including its Health Plan members. The system, with its exceptional affiliated medical staff and more than 25,000 employees, provides compassionate, superior service while advancing health in Southeast Texas.

Lone Star College offers high-quality, low-cost academic transfer and career training education to 98,000 students each semester. LSC is training tomorrow's workforce today and redefining the community college experience to support student success. Stephen C. Head, Ph.D., serves as chancellor of LSC, the largest institution of higher education in the Houston area with an annual economic impact of $3.1 billion. LSC consists of six colleges, eight centers, two university centers, Lone Star Corporate College and LSC-Online. To learn more, visit LoneStar.edu.