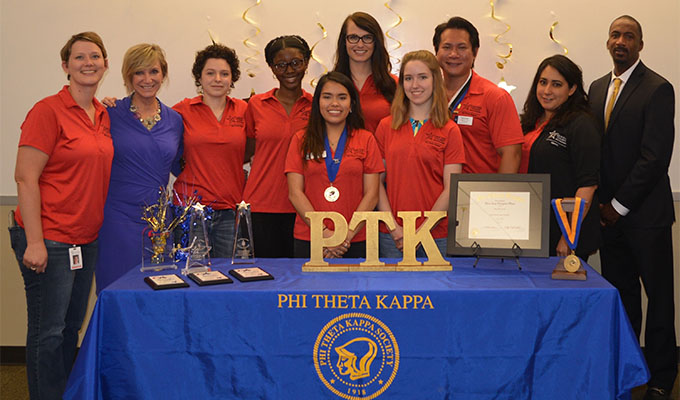 Students in Phi Theta Kappa (PTK) Beta Delta Iota chapter at Lone Star College-Montgomery are keeping up their Five Star Level Award for the second year in a row. The group has also received some of the highest honors in the state and internationally.
At the Phi Theta Kappa Texas Regional Conference held in March, the group took home an Honors in Action Award of Merit, College Project Award of Merit, and a Texas Top Chapter award. President Holly Young also won a Hall of Honor individual award. The team also received awards at the International Phi Theta Kappa Convention held in Nashville, Tennessee in April. The group took home a Distinguished Theme Award for Honors in Action, Distinguished Honors in Action Project Award, and was identified as a top 100 chapter out of more than 1,000 chapters internationally.
The Honors in Action project raised awareness about sex trafficking. Student officers wrote proposals to select the theme.
"We selected sex trafficking for our topic after learning how it increases as a result of major events like the Super Bowl," said Diarra Raymond, Vice President of Scholarship. "Winning an award of merit of meant that all our hard work actually paid off. We were able to make a difference in our community and also receive recognition for that difference that we made."
PTK's College Project was a mentorship program for students taking developmental college courses.
"We encouraged students to take advantage of all LSC-Montgomery has to offer," said David Hok, Executive Vice President. "Many are hesitant to ask questions, so that is where we come in. The students felt more confortable asking us a questions because we are students just like them."
"Being recognized with awards is really humbling," explained Alexandrea Bode, Officer of Service. "We had our own perspective when we were in the middle of the project, but when someone from the outside looks at it and see its importance it shows that you did so much more. Plus the executive team is so diverse and our coming together as a group shows how we learned from each other and grew as a team."
Membership in LSC-Montgomery's chapter currently includes more than 900 students. The executive officers say there are many benefits to joining.
"PTK helps connect you to LSC-Montgomery and it opens a lot of doors, said Emma Hudroge, Vice President of Service. "It helps you understand the skills you need to do for the future."
PTK is an international honor society that recognizes and encourages scholarship among two-year college students. Students join to polish their leadership, service and communication skills. To learn more about PTK, visit ptkmontgomery.org.
Lone Star College offers high-quality, low-cost academic transfer and career training education to 95,000 students each semester. LSC is training tomorrow's workforce today and redefining the community college experience to support student success. Stephen C. Head, Ph.D., serves as chancellor of LSC, the largest institution of higher education in the Houston area with an annual economic impact of $3.1 billion. LSC consists of six colleges, eight centers, two university centers, Lone Star Corporate College and LSC-Online. To learn more, visit LoneStar.edu.