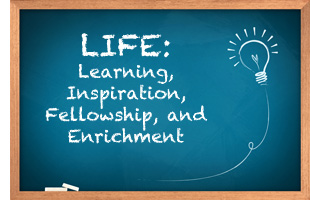 Are you ready for the upcoming solar eclipse, want to be savvy with online shopping or take a trip around the world without leaving Houston? You won't want to miss these Lone Star College-CyFair weekly summer programs.
The Learning, Inspiration, Friendship and Enrichment (L.I.F.E.) programs in August are free and held Wednesdays from 10 a.m. to 11 a.m. in the library (Room 131 unless otherwise noted) at 9191 Barker Cypress.
August 2 — Written in the Stars
Darrell Jenkins, author of "First Light and Beyond: Making a Success of Astronomical Observing," reveals simple strategies to help explore the summer sky and ready for a once-in-a-lifetime solar eclipse Aug. 21.

August 9 — Make a Haku Lei
While traditional leis are constructed with natural foliage and flowers, LSC-CyFair's own Leah Stark demonstrates how this garland of love can be created with materials which do not die.

August 16 — Global Houston
No need for a passport. Join ESL instructor Ruth McDonald on a virtual trip around the world without ever leaving Houston and enjoy some international nibbles along the way.

August 23 - Getting to Know You, Anthropology Style
What can we discover about a people from their prehistoric works of rock art?
LSC-CyFair's Dr. David Bruner reveals details of the indigenous Coso peoples of central California derived from their petroglyphs.

August 30 — Let Your Fingers Do the Walking
Online internet shoppers unite! Librarian Melanie Wachsmann gives us tips on how to shop online and get the best deals.
Call the library at 281.290.3214 for L.I.F.E. program information or go online to LoneStar.edu.