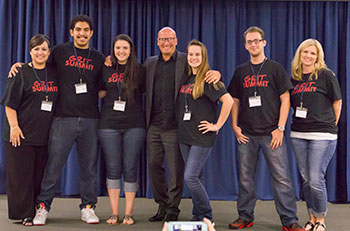 TOMBALL, Texas – Lone Star College-Tomball President Dr. Lee Ann Nutt has announced that the Second Annual GRIT Summit will be held Friday, Oct. 13, on the LSC-Tomball campus.
"Since Spring 2015, LSC-Tomball has explored how to help more students finish what they start," Nutt said. "I believe wholeheartedly that the development of GRIT (growth, resilience, instinct, and tenacity) matters a great deal. But more important than the quantity of GRIT a student has, the quality of GRIT is key. Students with good, smart and strong GRIT are more likely to be successful in college and in life. The good news is that GRIT can be grown. This is supported by research we conducted in Fall 2015. Therefore, LSC-Tomball is committed to ensuring our students become gritty – in all the right ways."
The keynote speaker for the event is Angela Wrigglesworth, a person Nutt believes exemplifies good GRIT. For example, when Wrigglesworth was only 16 months old, she was diagnosed with spinal muscular atrophy (SMA), a condition that weakens muscles in the human body, and can affect the person's ability to walk, crawl, breathe, swallow, and maintain head and neck control. Today, Wrigglesworth uses a power wheelchair for mobility.
Wrigglesworth is a native Houstonian with a bachelor's degree in elementary education from Texas A&M and a master's degree in special education from the University of St. Thomas. She is a third grade teacher in the Houston Independent School District, and was awarded the 2004 Houston Chronicle Crystal Teacher Award, recognized by Who's Who Among American Teachers in 2005, and honored as Klein Independent School District's 2012 Teacher of the Year.
Nutt noted that Wrigglesworth's accomplishments fall directly in line with this year's GRIT Summit theme of "From Can't to Can."
"As a national leader, LSC-Tomball has a responsibility to share with other colleges how to infuse GRIT into their cultures and their courses," Nutt said.
Wrigglesworth is involved in a variety of philanthropic organizations and committees, including the Camp for All and the Muscular Dystrophy Association. As a keynote speaker across the country, Wrigglesworth has been able to share her philosophy on life in which she has taken from basketball coach John Wooden that, "Things turn out best for those who make the best of the way things turn out."
In addition to Wrigglesworth, Dr. Paul G. Stoltz, author of four best-selling books and regarded as the world's leading expert on measuring and strengthening human resilience, will close out the GRIT Summit via SKYPE.
Stoltz, author of GRIT: The New Science of What It Takes To Persevere, Flourish, Succeed, defines GRIT as the "capacity to dig deep and do whatever it takes — even sacrifice, struggle, and suffer — to achieve one's most worthy goals in the best ways."
Nutt pointed out that LSC-Tomball has been fortunate to work with Stoltz for the past two years.
"He is a preeminent leader, researcher and author on the subjects of overcoming adversity and developing GRIT," Nutt stressed, before adding, "His life's work has been devoted to helping people achieve, which is the very purpose of our college – to transform potential into achievement."
For more information and updates on the Second Annual GRIT Summit, please visit: http://www.lonestar.edu/gritsummit.
Lone Star College-Tomball is located at 30555Tomball Parkway, at the intersection of SH 249 and Zion Road. For more information about the college, call 281.351.3300 or visit LoneStar.edu/Tomball.
[Digital photo included] Cutline: Lone Star College-Tomball president Dr. Lee Ann Nutt (far left) and Dr. Paul Stoltz (center) pose with LSC-Tomball students at last year's GRIT Summit. The second annual event will be held at LSC-Tomball on October 13.