Blake Howard, a member of Lone Star College-CyFair's inaugural 2005-06 basketball team, has found his place off the court with a career in law enforcement.
"It's something I really wanted to do," said Howard, who is married and has two children. "I wanted to be part of something that is meaningful and that helps people."
His professional career began in May 2007 as a deputy/jailer with the Galveston County Sheriff's Office. He was also a police officer/field training officer with the Metropolitan Transit Authority of Harris County from September 2008 to February 2014 and has since served as a police officer for Missouri City.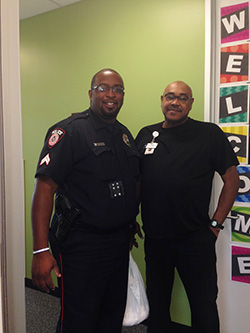 Howard started LSC-CyFair interested in business management, but said law enforcement was always in the back of his mind. At some point and time, his family has had law enforcement connections, whether as a dispatcher, lawyer or officers.
"I'm really proud of Blake. Law enforcement is such an important career. His life is on the line every day," said Larry Norris, former LSC-CyFair basketball coach "This kid had heart. He tried hard, was always on time and was dedicated … all the stuff you wanted in a basketball player. I knew he would do something positive in his life."
"I learned a lot about teamwork at LSC-CyFair with a great bunch of guys," said Howard. "We were trying to achieve a common goal defending our basket and trying to score more points than opposing teams. How that transitioned into law enforcement, though with another group of men and women, is that we are trying to deter crime and make a positive impact achieving that common goal."
As an assistant youth basketball coach, Howard gives back to his Galveston County roots applying what he learned from Coach Norris, who's now served as LSC-CyFair's Medical Radiology Technology Program Director since 2012.
"He took an interest in us. He's an awesome man, coach and father and was there for a lot guys like myself to motivate us. I'm thankful for his dedication to us," said Howard, who recently visited his former coach after connecting on LinkedIn. "I hate that he gave up coaching, but I know whatever he's doing, he's helping people chase and reach their dreams."
Having done the same with basketball players he's coached, Howard is particularly proud of three players who recently signed letters of intent, including his own son, who will be at Texas College in Tyler on a basketball scholarship this fall.
While Howard's ultimate goal is to be a police chief somewhere before he retires, this LSC-Fair alum is currently on a waiting list to become a detective.
For information on LSC-CyFair's basketball program or fall semester classes starting Aug. 28, go to LoneStar.edu/Cyfair.