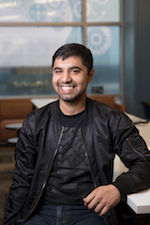 HOUSTON – Hammad Ahmed, a spring 2017 Lone Star College graduate, is proving that personal growth and a college education are within reach at community colleges with the right mindset, hard work and dedication. While attending LSC-University Park, Ahmed was a student leader and recipient of multiple honors and scholarships.
"I feel that LSC-University Park has given me many opportunities I'm sure I wouldn't have had elsewhere," said Ahmed. "I use to consider myself a very introverted student and I would not have gone out of my way to take on leadership roles. My friends, advisors and fellow students encouraged me to become more confident in my abilities."
When Ahmed first started his studies at LSC-University Park, he kept his head down. After taking on the leadership roles of vice president and president for LSC-University Park's Phi Theta Kappa (PTK) chapter and getting involved in campus life as a math tutor, Ahmed said he felt he was part of something bigger than himself.
"Ahmed was everything we hoped he would be when we selected him as the PTK President," said Frank Rodriguez, an LSC-University Park English professor and PTK adviser. "He naturally developed into a leader on campus and I look forward to seeing what he accomplishes in the future."
While he worked toward his Associate of Science degree, Ahmed took advantage of campus resources and applied for scholarship opportunities to be successful. He hopes his journey can inspire other students to take an active role in their education.
"I used to think, like a lot of students, that scholarships weren't actually attainable," said Ahmed. "My advisors encouraged me to apply and I want other students to know that opportunities for aid are there and that it's worth it to apply."
During his time at LSC-University Park Ahmed received the Dr. Mary Hood Scholarship and the Coca-Cola Leaders of Promise Award, and was a Coca-Cola Community College Academic Team Gold Scholar.
"The scholarships have made a big difference for me," said Ahmed. "Since I'm funding my own education, I was working full time, but now I don't have to worry about the financial aspect of things quite as much. I can focus on my studies."
Ahmed was also awarded the Terry Transfer Scholarship, a highly competitive scholarship that could potentially fund the remainder of a student's educational trek toward a bachelor's degree.
The next step in his journey is to attend Texas A&M University in the fall and major in mechanical engineering. After he earns a bachelor's degree, Ahmed hopes to continue his education or embark on a career that involves his interest in cars, mechanical systems and innovative design.
"I think we should consider air-powered cars. I'm really interested in environmentally sustainable designs," Ahmed said. "I have a lot of ideas that I want to pursue, conduct research on and see where they take me."
For more information:
Jessica Jordan
Communications Manager
281.290.1812 (O)
Jessica.Jordan@LoneStar.edu