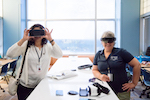 HOUSTON – With the fall semester beginning Monday, Aug. 28, Lone Star College-University Park hosted two development events for faculty and staff to welcome in the 2017-18 academic year. The campus held a Faculty Development Day Saturday, Aug. 19, and Fall Convocation Monday, Aug. 21.
Faculty Development Day brought more than 300 employees to the campus and included orientation for new adjunct faculty members and breakout sessions on a range of topics, from emerging technologies to diversity in the classroom.
"Faculty Development Day provided our faculty members with opportunities to further develop as instructors and to network with colleagues," said Dr. R. Mark Miles, director of professional development at LSC-University Park. "The knowledge they gain is not only an investment in our faculty, but also in our students. Our campus only succeeds when our students succeed, and that is why LSC-University Park ultimately exists."
As well, more than 150 LSC-University Park employees attended Fall Convocation. LSC-University Park President Shah Ardalan opened the event by addressing commitment to student service, student success, campus culture, and the impact of every role inside and outside the classroom.
President Ardalan discussed LSC's Top 5 Priorities, set by LSC Chancellor Stephen C. Head, and their integration into campus plans. The Top 5 Priorities are college partnerships, student success, culture, academic and workforce program quality, and financial responsibility and accountability.
"Each new academic year brings excitement to LSC-University Park and the chance to build upon our solid foundation as the community's college," said Ardalan. "Our exemplary faculty and staff are always ready to reach further and are fully invested in realizing our college priorities. I thank them for their continued support of this campus and what we are trying to achieve."
After his address, President Ardalan introduced keynote speaker Vince Martinez, Executive Facilitator for Partners in Leadership and cultural change expert. In his presentation, "Working Within our Beliefs," Martinez gave employees a framework to daily live out the college's cultural values.
Fall Convocation concluded with a pinning ceremony for all new faculty and staff.
"We are proud to welcome new members into our LSC-University Park family," said Ardalan. "This campus is a vibrant community, and I know we have found individuals who only strengthen and enhance our culture."
LSC-University Park's Office of Professional Development organized both events. The office plans to schedule additional development sessions and events for faculty and staff throughout the semester.
Fall registration is underway at LSC-University Park and classes begin Monday, Aug. 28. Future students can find admission guidelines to apply at www.LoneStar.edu/Admissions. Returning students can visit LoneStar.edu/Registration to search for classes and register online. Academic advisers are available to assist students with their academic planning. Call 281.290.2600 or email UPAdvising@LoneStar.edu to contact an adviser.
For more information:
Jessica Jordan
Communications Manager
281.290.1812 (O)
Jessica.Jordan@LoneStar.edu