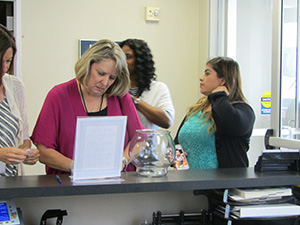 Area high schools and community partners recently toured Lone Star College-CyFair to learn more about workforce programs that help students to transition and advance into careers in healthcare and technology.
"The workforce tour provided Lone Star College with the opportunity to showcase career and technical education programs in an up-close and personal way," said Hollander Thompson, Director of Educational Services and Partnerships. "I believe it was especially beneficial to high school counselors and career and technical education teachers because it provided tangible information that can be shared with students interested in gaining technical skills to move into the workforce quickly."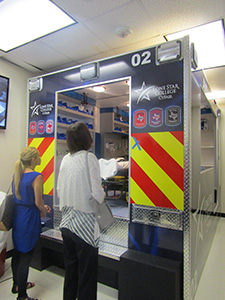 The afternoon tour provided a look at allied health programs including Emergency Medical Services and Diagnostic Medical Sonography, as well as LSC-CyFair's Cisco Academy Program and the Visual Communications Department. The tour concluded with a presentation on the LSC-Westway Park Technology Center, which will house Computer Information Technology and Visual Communication programs when it opens next fall.
This tour was the third in a series that the Office of Workforce Education and Corporate Partnerships at Lone Star College first launched in August 2016.
"Seeing the variety of Lone Star College workforce programs in action, the quality of the instruction and state-of-the-art equipment was extremely informative," said Christy Taylor, College and Career Specialist at Cypress Falls High School, who attended the first of these tours. "It has helped me to get better connected to LSC advising resources and workforce staff, not only at the LSC-CyFair campus, but across LSC."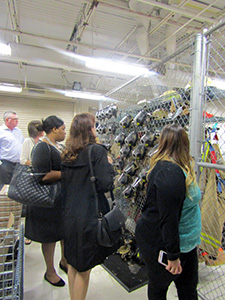 "The primary focus of the workforce facilities tours is to support student recruitment and retention efforts in workforce programs throughout our LSC system," said Pat McDougall, Program Manager for Workforce Recruitment and Retention. "Participants learn about the range of programs available for students from fast-track career and technical education programs to associate degree programs. They also meet LSC college leadership, workforce faculty and staff as well as students."
Approximately 100 ISD and community partners have now participated in the series of tours at all six LSC colleges (LSC-CyFair, LSC-Kingwood, LSC-Montgomery, LSC-North Harris, LSC-Tomball and LSC-University Park.) Workforce programs featured have included a range of offerings in Business and Professional Services, Computer Digital Technology, Energy Manufacturing and Skilled Trades as well as Health, Emergency and Personal Services.
"I would highly recommend participating on the tours and endorse that the time is well spent," said Taylor.
For information on April and August 2018 tours, contact McDougall via email at Patricia.A.McDougall@LoneStar.edu or call 832.813.6775.