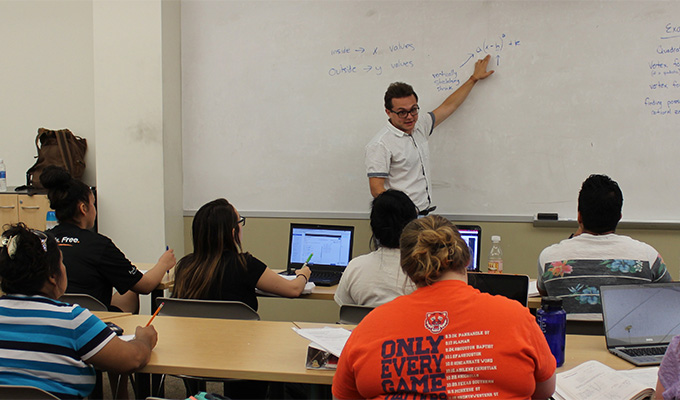 Students taking college algebra at Lone Star College-Montgomery have another avenue to help them master their course material. Last semester, Steve Smith was part of a supplemental instruction pilot program for Dr. Tarcia Hubert's Math 1314: College Algebra. Smith is an LSC-Montgomery student who already received an A+ in the class.
"I was one of those students who sat at the front of the class and was always willing to go up and do problems on the white board and help other people," said Smith. "I was always trying to lead the pack."
Smith basically took college algebra again. He sat through lecture and he would take the tests with the class while hosting outside study sessions for students twice a week.
"Sometimes students are afraid to ask the professor questions," Smith said. "So I helped break the barrier, the students came to me, a peer and that experience was a little bit easier for them."
Student, Molly Tiemeyer, attended the sessions.
"Steve explains concepts to us in a way that Dr. Hubert does not," Tiemeyer said. "He takes it step-by-step and can slow down the pace. Coming to these groups has brought my test grade up."
Elyssa Hagen also attended the study sessions.
"I am passing algebra with a higher score than I thought because of this outside help," Hagen said. "Steve's sessions are smaller and more hands on which helps me learn better."
"Research has shown that supplemental instruction is a very successful program," said Dr. Hubert. "It helps students to be successful especially in classes with high failure rates, like college algebra."
Dr. Hubert has crunched the numbers, 86% of the students that attended study sessions passed last semester. None of the students who attended at least one study session dropped the course and all students that attended six of more sessions received an A or B in the class.
Because of this success there is another supplemental instructor for Math 0308: Introductory Algebra this fall 2017.
"The students could have done it without me," said Smith. "I just gave them a little push. If the students told me they were having trouble with a specific concept that we have done several exercises on, I told Dr. Hubert and she made a point to review it in the next class period. She is always asking what she can do to help students succeed. That dedication is why I like being a student here at LSC-Montgomery."
You might think that Smith wants to be a teacher himself, but it is just in his blood. Both of his parents are educators. Smith wants to transfer to Sam Houston State University and get his degree in computer engineering.
"I feel that the best test of whether or not you really understand a concept is trying to teach it to someone else so my understanding of math, especially college algebra, has gone through the roof," said Smith. "I am here at college to learn and this experience also allows me to meet more sharp minds to work with on a regular basis."
Lone Star College offers high-quality, low-cost academic transfer and career training education to 95,000 students each semester. LSC is training tomorrow's workforce today and redefining the community college experience to support student success. Stephen C. Head, Ph.D., serves as chancellor of LSC, the largest institution of higher education in the Houston area with an annual economic impact of $3.1 billion. LSC consists of six colleges, eight centers, two university centers, Lone Star Corporate College and LSC-Online. To learn more, visit LoneStar.edu.