When Harris County Emergency Operations Center asked Lone Star College-CyFair to set up as a Hurricane Harvey shelter the morning of Aug. 29., a diverse community came together to help hundreds of people in need.
"Community colleges are about being part of community, a real part, a meaningful part. What we found here was a shared commitment to humanity," said Dr. Hilary Harris, LSC-CyFair development English faculty and education department chair. "I think we all understood that this truly was a moment where we are better together and it's one of the major principles Lone Star College lives by."
There are people who cannot just sit by and watch, who want to help comfort others whatever it takes, and that's exactly what more than 400 area residents, from all walks of life, did for four days.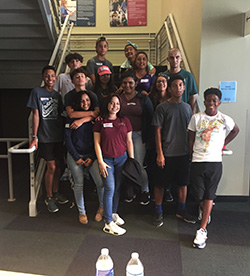 Dr. Harris and other area residents, Carrie Smith, Nelly Urquizo, Kyle Goldstein, Jillian Moller and Dr. Christina Hagerty, were among the first volunteers, who helped served 97 residents and 600 visitors at the shelter on the college campus.
Smith, a 9-year Lone Oak subdivision resident, said her home had not flooded, but a tornado had caused minor roof damage and a leak over the bathtub. However, she and her teenage grandchildren were going stir crazy and wanted to find a way to help others.
"These are my neighbors," she said. "I had to get out there and help them. They live in my community and it could have been me, except for the grace of God. I couldn't just sit at home and watch."
Smith said when they arrived at noon Tuesday, the community was already donating stuff by the truckload and just needed to be organized.
"I didn't see anyone with a badge yet, so I just jumped in and started taking charge; the outpour of donations and number of volunteers was amazing," Smith said.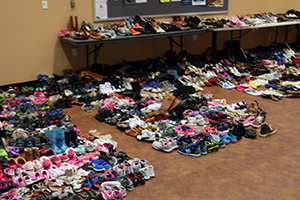 By 4:30 p.m. that day, the donations had filled all the first-floor classrooms in the Health Science Center and Smith was coordinating efforts to sort, label and organize all of the donations with the assistance of community volunteers.
"We were up there when it opened and we shut it down Friday," said Smith. "We literally went home, took a shower, laid down to sleep for two hours and went back up there."
Smith's 17-year-old granddaughter, Keana Powers, assisted guests, listened to their stories, and even befriended a few; including one for whom she is now fostering their cat. Now, Smith is helping her daughter and son-in-law whose home and car flooded in Dickinson.
Urquizo, a 2005 Cypress Spring High School graduate, and her family had voluntarily evacuated from their townhome at Highway 6 and Clay Road to her mother's in Katy. They came to the college with some donations and asked if volunteers were needed. The next thing she knew, Urquizo was in charge of her own volunteer team of high school students.
While Urquizo was helping guests at the shelter, she was sent a text of a TV news photo showing her neighborhood under water.
"I didn't have a home anymore, so I hid away at Lone Star College helping out instead," she said. "It didn't hit me until two days later that I'm an evacuee as well. The blessing in this tragedy was I had my mom's to go to and not a shelter. I also got attached to a lot of people and made new friends."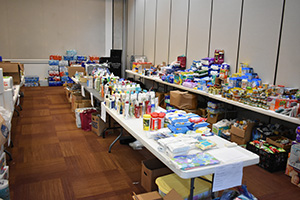 After her time at Lone Star College, Urquizo's service didn't end. She helped friends feed first responders, got trained how to complete FEMA applications to specifically help Spanish-speaking victims and, through her husband's remodeling business, is assisting those in need through a Facebook group called Harvey's Angels.
Other nearby residents who arrived the first day at the shelter were also LSC-CyFair employees, like Dr. Harris, Moller, Dr. Hagerty and Goldstein. They coordinated efforts regarding food, medical services and supplies and tended to any needs of the shelter guests.
Goldstein, a part-time student worker, said his first goal was to not have people worrying about meals, which would be needed three times a day. Even though Meals Ready-to-Eat (MRE) were available, he thought it would be possible to provide people who had lost everything hot meals instead. So first thing in the morning, he got up and drove to area businesses.
"Everywhere I went people were willing and able to help," he said. "They were waiting for a call to action."
Twenty community businesses were ready to provide any resources needed, and they did.
Goldstein said it was awesome and humbling to be a part of such a community effort. He witnessed people wrapped around the building wanting to donate and egos set aside to just contribute and do the most mundane or menial tasks.
"The level of respect and compassion for guests; the communication, teamwork and camaraderie; that people felt the community embraced them and they didn't want to leave … It was inspiring, amazing what was accomplished and motivating. That's where you get the energy to dig deep and do what needs to be done," said Goldstein.
Dr. Harris and Moller, whose homes were not damaged, instinctively took on leadership roles.
"As faculty members we lead classrooms of 30 people every day," said Moller, who teaches speech. "We had keys to rooms and knew where to find things, so (along with Dr. Harris) we started delegating and basically created an infrastructure for volunteers to make things run efficiently."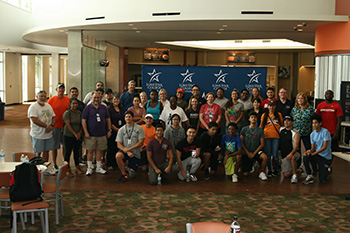 As Dr. Harris saw faculty and deans she knew or community members who were able to step up (like Smith and Urquizo), she'd ask if they could help. Moller said she is a people person good with names, so she connected with guests as it was important her they felt welcomed and not invisible during their stay. With 50 dogs and cats and two rabbits also at the shelter, Dr. Harris called a local veterinarian, who responded within the hour to set up a tent, providing free vaccinations, antibiotics and microchipping animals in need.
With only some water damage in her home office, Dr. Hagerty, a founding faculty member and current dean, came to check on her "home away from home." When she arrived at the college about 1 p.m. Tuesday, so many generous community members had already dropped off bags and bags of donations.
"I got my safety vest and clipboard and my college badge and began organizing, making signs, gathering medical supplies and getting anything we needed to make guests feel comfortable while they were here," said Dr. Hagerty.
Dr. Hagerty, along with coworkers Celia Harper and Dean Kim Hubbard, also helped transport guests to an area shelter at Copperfield Church so the college could prepare for the 22,000 students returning to the campus.
LSC-CyFair students also volunteered in the Cypress, Bear Creek and Colonies subdivisions surrounding the college. Members of LSC-CyFair's student organization Cru chose to specifically rescue residents during the flood, and they continued serving flood victims after the storm, said Cru leader TC Villalobos.
Since Harvey hit landfall, Cru has helped more than 1,200 residents, he said. In one day, Sept. 4, and in one neighborhood, Georgetown Colony, Villalobos said Cru handed out 320 cases of water, 25 cases of Gatorade and 14 large bags of dog food as well as cleaning supplies, including 144 cans of Off, 22 cases of bleach, 69 cases of 32-gallon trash bags, 110 germ-x bottles, 54 boxes of latex gloves, 72 boxes of Clorox wipes, 149 cans of all purpose cleaner, 21 mops, 8 shovels and 27 buckets.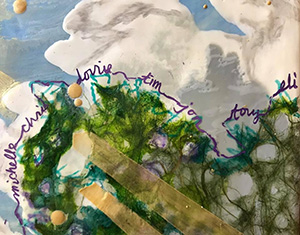 The willingness to help flood victims continues on the college campus as LSC-CyFair's Stacy Gresell and fellow faculty host a special fund-raising "CyFair HeART" exhibition set Oct. 16-19. Benefitting employees impacted by Harvey, the show features faculty-donated art inspired by, and made during, the storm.
"This event celebrates the tangible sense of community at LSC-CyFair and the spirit that brings us together to help each other when needed," said Gresell, who teaches speech.
For information on college events and programs, go to LoneStar.edu/Cyfair.