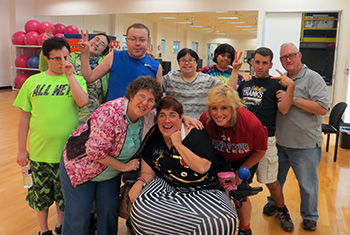 For the past two summers, Lone Star College-CyFair kinesiology students have helped people with intellectual and developmental disabilities find a passion for physical fitness and a healthy lifestyle.
"Students who take my classes are usually choosing career paths in nursing, physical and occupational therapy, EMS and personal training," said Michele Newhouse, LSC-CyFair kinesiology professor. "I wanted to open their minds to the fact that there is a big need for teaching clients with intellectual and developmental disabilities."
Through a Service Learning component Newhouse added to her class, students had the opportunity to develop skills working with clients at Reach Unlimited, whose mission is providing quality support services for people with intellectual and developmental disabilities.
Service Learning was an opportunity for her students to learn how to teach these clients correct use of equipment and exercise form pertaining to their specific situation.
"I also wanted them to understand how important it is to create an environment where these individuals are learning to exercise correctly, communicate, cope and, of course, have fun in a group setting with group fitness classes and personal training sessions," she said.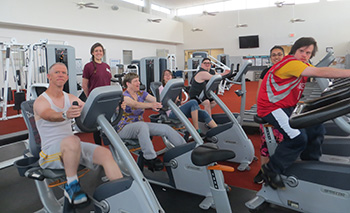 Newhouse, a founding adjunct instructor for LSC-CyFair, has spent her Wednesday mornings for the last 7 years teaching exercise and wellness to clients at Reach Unlimited's Learning Activity Center.
"Michele made the experience so engaging and fun for our clients, that soon everyone was watching the clock for Michele's class to start," said Reach Unlimited's Director of Operations Kris Lusebrink, "Through her contagious smile and genuine love for folks with intellectual disabilities, Michele found a way to integrate physical fitness into the daily lives of our clients and eventually create a passion for workouts within them."
Newhouse first learned about Reach Unlimited through a neighbor with disabilities. When Newhouse followed up on volunteer opportunities, the then volunteer coordinator was Lusebrink, one of her former aerobics students.
"In my heart, I knew this was where I was suppose to be," she said. "Then a couple years ago, a client by the name of Kelly B., who is wheelchair-bound, wanted to come see what I do at the college. I thought, why not? Then I thought, this would be a wonderful opportunity for Service Learning."
The Service Learning component of Newhouse's class included touring one of Reach Unlimited's group homes, visiting the Learning Activity Center and then learning how to communicate and assist clients with their exercise and wellness needs.
"Being part of the Service Learning was fun and at the same time an eye opener," said Yoskua Mendoza, a future occupational therapist. "I learned from the clients that having a disability doesn't limit our capacity to do things, despite obstacles along the way. Rather, with a few modifications, we can all accomplish our goals, no matter our circumstances."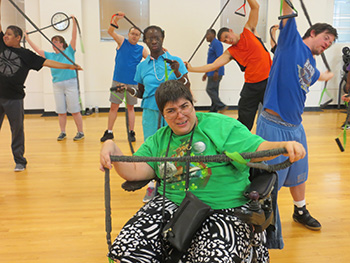 Mendoza and her fellow classmates teamed up with Reach Unlimited clients, many of whom had never been on a college campus, for aerobics classes. Students led and assisted the clients in resistance and toning workouts, step classes and kickboxing. Students also taught clients how to lift weights properly and work out on the machines in the college's Fitness Center.
Reach Unlimited's Executive Director Lauren Black said participating in this specially-tailored exercise program is an interactive experience that provides clients opportunities to learn and enjoy time with their peers in an age-appropriate setting. It also fosters social skill development, improved physical fitness, and functional communication skills.
"The benefit for the clients of Reach Unlimited is unmeasurable," she said. "The greater value is the positive impact the experience has in these individuals' self-esteem and sense of belonging."
LSC-CyFair students also benefited from the summer classes, not only gaining real-world experience with who have intellectual and developmental disabilities, but earning a Service Learning designation on their transcripts.
For information on Reach Unlimited volunteer opportunities, tours or the annual fund-raising luncheon Oct. 5, go to ReachUnlimited.org. For information on LSC-CyFair's kinesiology program or Service Learning opportunities, go to LoneStar.edu/Cyfair.