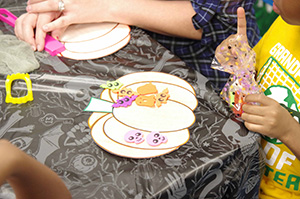 Lone Star College-CyFair's Mathematics Department will host their annual Math Games Day Oct. 14.
The event is a "carnival of fractions, geometry, measurement, and all things numerical" for children ages 3 to 10.
"We've planned some new and innovative activities to help children of different ages have fun while learning some cool math," said LSC-CyFair Math Professor Sharon Stefan.
Stefan's students will help participants use integers in "Finding the pot of gold with leprechauns", compare numbers of inequalities in "Who has more eggs?", toss bean bags for numbers and learn about area and perimeters of shapes.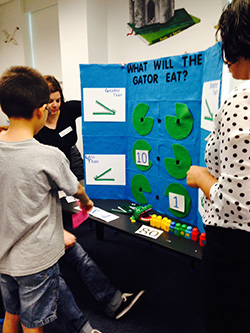 While the event is an interactive learning experience for community children, it also gives LSC-CyFair students who are interested in teaching the opportunity to implement what they've learned in the classroom in a real-life teaching situation, said Stefan.
"My former students said not only do they realize what age group they prefer to work with, they get a better sense of what it is like to work with children and the diversity they will encounter in their classrooms."
In addition, Stefan's students who participate in this event experience Service Learning. If they do additional hours, such as math tutoring at an area school, they can earn credit toward a Service Learning designation on their transcript.
Math Games Day activities set Saturday, Oct. 14, from 10 a.m. to 2 p.m. in the Technology Building, room 102, at 9191 Barker Cypress.
Parents/adults must be with their children at all times, but no registration is required for this come-and-go event. Exit prizes will be given to all participants.
For information on Math Games Day, contact Stefan at Sharon.K.Stefan@LoneStar.edu or call Cynthia Hoffart-Watson at 281.290.3211. For information on LSC-CyFair events or Service Learning opportunities, go to LoneStar.edu/Cyfair.