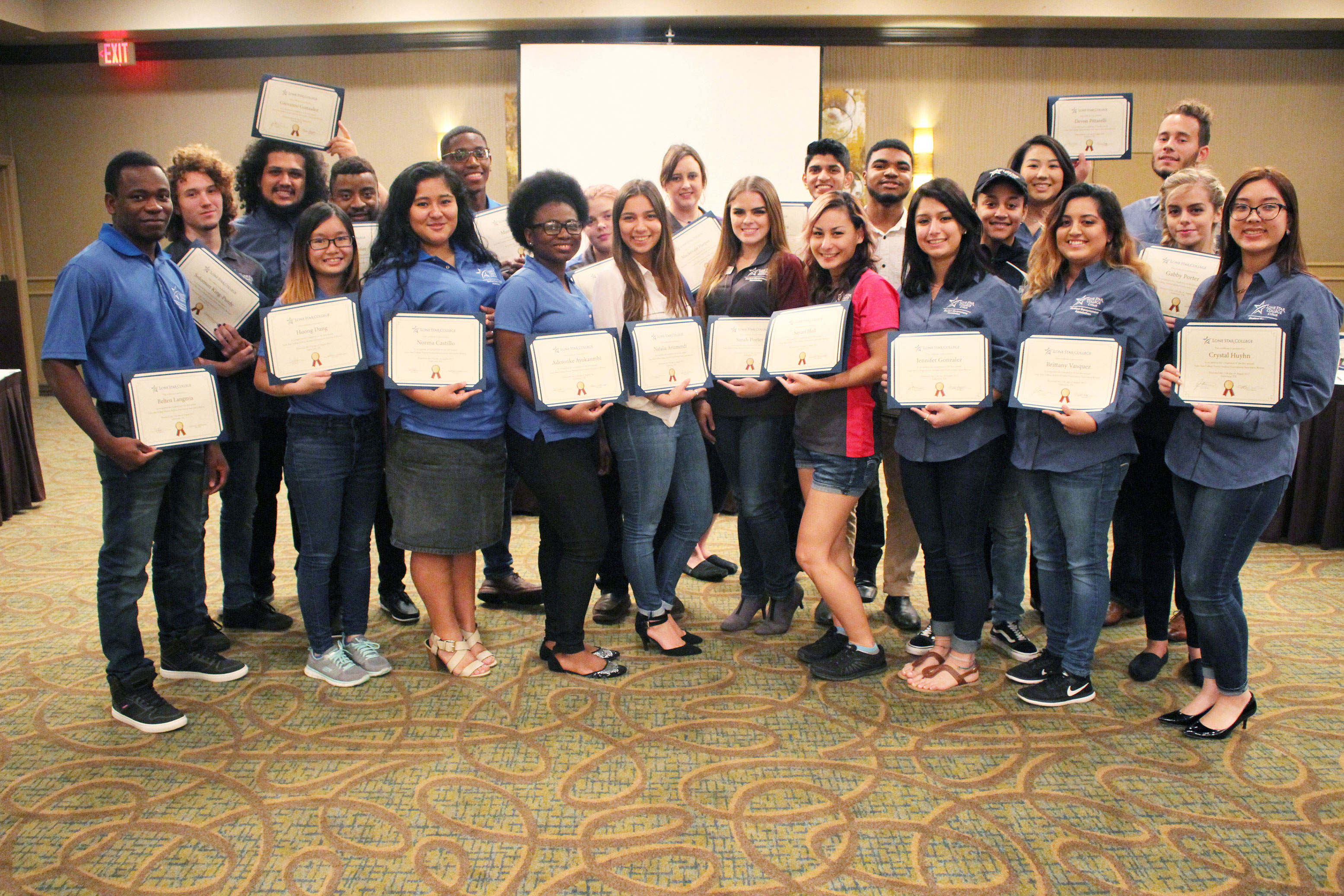 HOUSTON – Officers from the Student Government Association (SGA) at Lone Star College-University Park attended the first SGA System Retreat this fall and plan to lead a digital food pantry initiative to help meet local needs, including those resulting from Hurricane Harvey.
"SGA representatives and advisers from each college in the LSC system attended the retreat," said LSC-University Park Student Life Program Manager Sarah Ray. "The goal was to unite SGAs across the system and to give students an opportunity to network and learn from one another."
LSC-University Park SGA President Natalia Arizmendi and Vice President Anthony D'Souza attended the two-day retreat in Galveston, which included leadership training, officer workshops and brainstorming sessions.
Leadership skills are coming in handy as SGA members consider plans to implement a digital food pantry. After the impact of Hurricane Harvey, they hope to use the project to aid in recovery efforts in the community.
"We think a digital food pantry could have a big impact since there is so much need after Hurricane Harvey," said Arizmendi. "We are also supporting the community by writing thank-you notes to volunteers and community members who went above and beyond the call of duty during that time."
Dr. Darrin Rankin, vice president of student success at LSC-Kingwood and the keynote speaker, gave students an inspiring speech about leadership, influence and integrity.
"His speech hit home for me," said Arizmendi. "It was relevant for all of us as officers in new leadership positions and made me even more excited about our organization."
SGA is focused on spreading the word about their mission and goals on campus, and engaging students so they can become more successful in achieving their goals.
"Coming in last semester, I had no idea what SGA was and that's common amongst our students," said Arizmendi. "A lot of students just don't know who we are or what we do. This semester, we want to increase awareness and student engagement by creating a senate."
Elected SGA officers represent the interests and needs of students and student organizations. The SGA Senate will include committee members and representatives from student clubs to support SGA initiatives and give a voice to members of registered student organizations on campus.
Registered student organizations are a great way to get involved on campus, with more than 20 academic, cultural and social groups. See a list of all the LSC-University Park registered student groups at www.LoneStar.edu/26296. Students can also create a student group in the Office of Student Life in B13.251.
Media Contacts:
Jessica Jordan
Communications Manager
281.290.1812 (O)
Jessica.Jordan@LoneStar.edu