Lone Star College-CyFair's Edward Bustos wants his drawings to tell a meaningful story and recently one of his stories was told through an award-winning, color pencil, self-portrait displayed in Washington, D.C.
Bustos was a Scholastic Art and Writing Awards winner and among 60 students recognized through the U.S. Department of Education Student Art Exhibit Program. He was one of three artists from Cy-Fair whose artwork was chosen from more than 330,000 visual arts and writing submissions nationwide to be displayed for a month.
"With all my pieces, I try to add a story. I want it to have meaning and have a reason why I drew it, not just because I wanted to and it's a pretty picture," said Bustos, who has "doodled" since elementary school.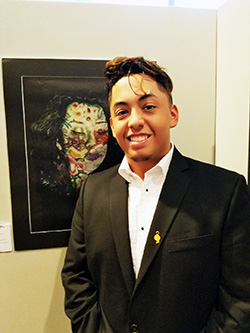 Bustos said he prefers color pencil drawings and self-portraits like the drawing displayed in Washington, D.C. His gold medal drawing was a self-portrait of his friend Antonella that told her story of being bullied and depressed, but growing up and finding her inner beauty.
"So in beginning of the picture, at the bottom, it's very unfinished, dark pieces, no color - that portrays the depression part when at an early age she got bullied," he explained. "As you go up toward her neck, all the colors and pieces start to come together because she realizes 'I'm my own kind of beautiful.' Her face is where she is now. She doesn't care what other people say or think. She's confident in who she is, and to her, that's beauty, her inner beauty."
While Bustos was a student at Langham Creek High School, his drawings won several gold and silver medals in Visual Art and Writing Event competitions. In addition, his artwork was featured locally at Spring Street Studio as part of a teen artist and writer exhibition. Bohye Na, his high school art teacher, said there was approximately 600 art works displayed through the Harris County Department of Education Regional Scholastic Art and Writing Awards.
"Eddie enjoys drawing the most, often focusing on various values on human skin where he uses it to illustrate the subject matter's deepest emotion," she said.
Sometimes Bustos tells his own story through drawings of another, such as his "hear no evil, see no evil, speak no evil" version featuring his friend Allison.
"That portrayed my life story because about a year ago I was robbed and held at gunpoint at a former job. I wanted to portray the dangers and things in the world you wish you wouldn't hear, wouldn't see and wouldn't talk about," he said. "Life happens. We all cope in different ways … and mine was through art through a friend's portraits."
Bustos said his experience in Washington, D.C., opened his eyes to the possibilities of expanding his creative side and further motivated him to continue drawing, which is one way he expresses himself. Bustos is also a dancer, directing his own team and teaching lessons. .
Bustos plans to transfer to the University of Houston to pursue a business degree and ultimately run his own business.
Registration for LSC-CyFair's winter mini-mester and spring semester begins Nov. 15.