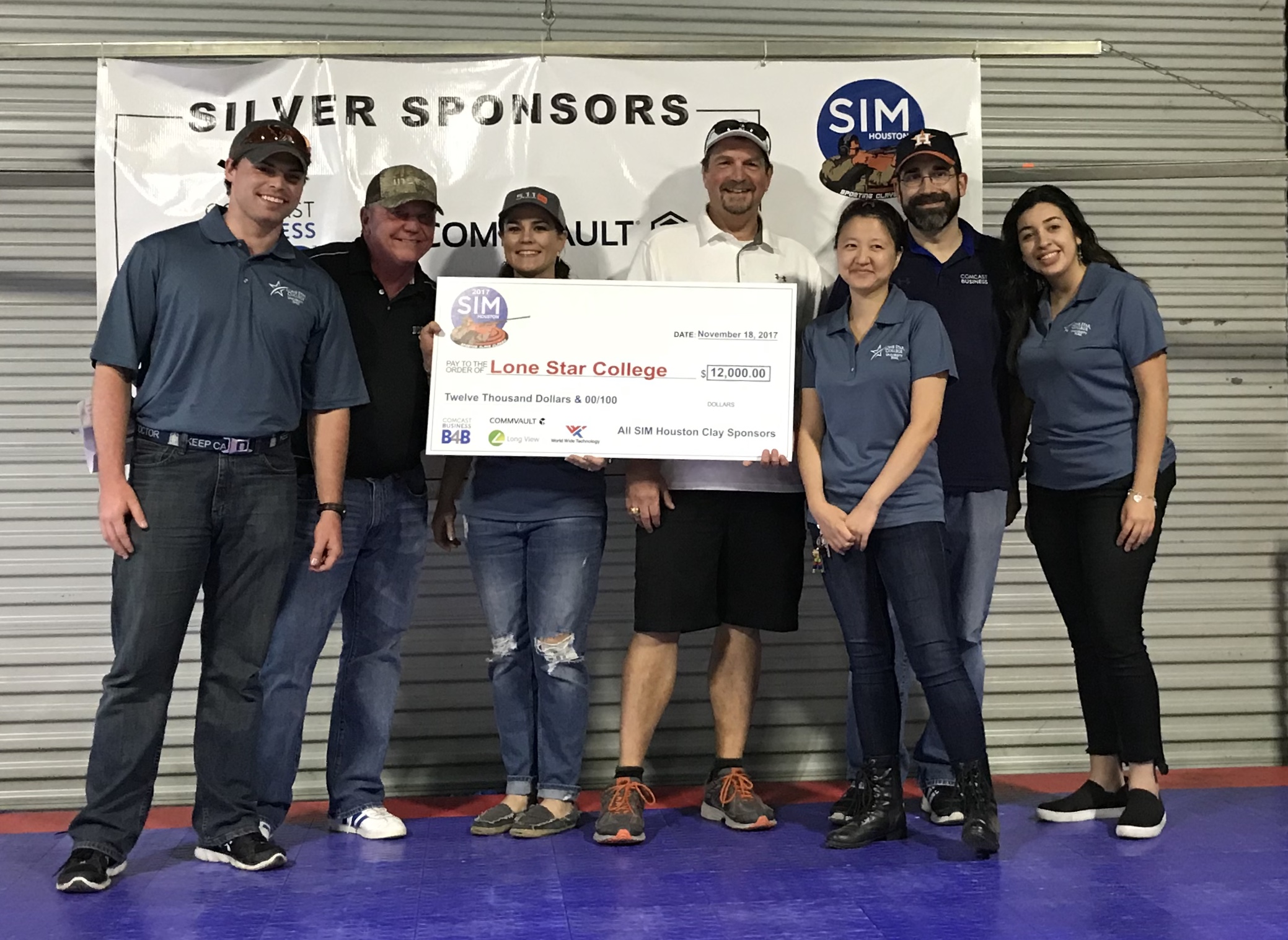 HOUSTON – Lone Star College-University Park has received a $22,000 donation from the Society for Information Management (SIM) Houston Chapter. SIM Houston presented a check to LSC-University Park representatives at SIM Houston's Annual Clay Shoot Saturday, Nov. 18.
The donation will support LSC-University Park's mission to bring innovative programming to students and the community. The college has allocated part of the donation to aid development of an Internet of Things (IoT) Lab at The Innovation Room, including the purchase of hardware and software. LSC-University Park will also develop an IoT maker event in 2018, with the help of SIM Houston.
"One of the biggest needs communicated by faculty was an IoT lab that would cover hardware and software needs for our students," said Steven Kahla, dean of LSC-University Park's business, applied sciences, computing and engineering technologies division. "Providing essential training and quality access to emerging technologies is key to preparing students for the workforce. Organizations like SIM help us achieve this goal."
An IoT lab would have sensors that would gather information from the environment, or would be attached to specific objects, like a motor or pump. The sensors would send that data to a computer through a wireless network, and software would organize the data in a way that would allow students to analyze for specific purposes.
The applications of IoT are impacting daily routines and promise further interconnectivity. IoT is transforming areas such as smart home technology and connected cars. Users are able to remotely turn on the air-conditioning from a smartphone before getting home from work, or schedule maintenance for a car whose sensors alert the user's smartphone of a needed filter change.
The Innovation Room opened at LSC-University Park in February 2017. The lab features high-tech equipment, such as 3D printers, virtual reality headsets, and recording equipment. The lab gives students and faculty easy access to emerging technologies in a cross-disciplinary environment.
SIM Houston supports local science, technology, engineering and math (STEM) programs and encourages students to pursue careers in technology professions through funding, outreach and scholarships.
Mark A. Sakowitz, SIM Houston's vice president of outreach and project manager at Data Bank IMX, said SIM not only provides monetary support to STEM programs like those at LSC-University Park, but also works with them in an advisory and mentoring capacity. SIM Houston members will contribute time and effort to assist LSC-University Park faculty select equipment, connect the lab, and develop curriculum. The college will share feedback about student needs and experiences.
"Supporting STEM programs is part of our mission at SIM Houston," said Sakowitz. "We are excited that our partnership is blossoming in a number of ways. Our collaboration is coming full circle and it will only positively impact the lives of students and aid business."
These donations continue a growing partnership between SIM Houston and LSC-University Park. In April 2017, SIM donated $15,000 to the college.
"We are thankful for our partnership with SIM Houston and their continued backing of our programs," said LSC-University Park President Shah Ardalan. "Our college was founded on an Invitation to Innovate (i2i) and a mission to prepare tomorrow's workforce, including students entering ever-changing technology professions. Working with SIM Houston facilitates our efforts in the community and promises a stronger future."
For more information:
UPCollegeRelations@LoneStar.edu