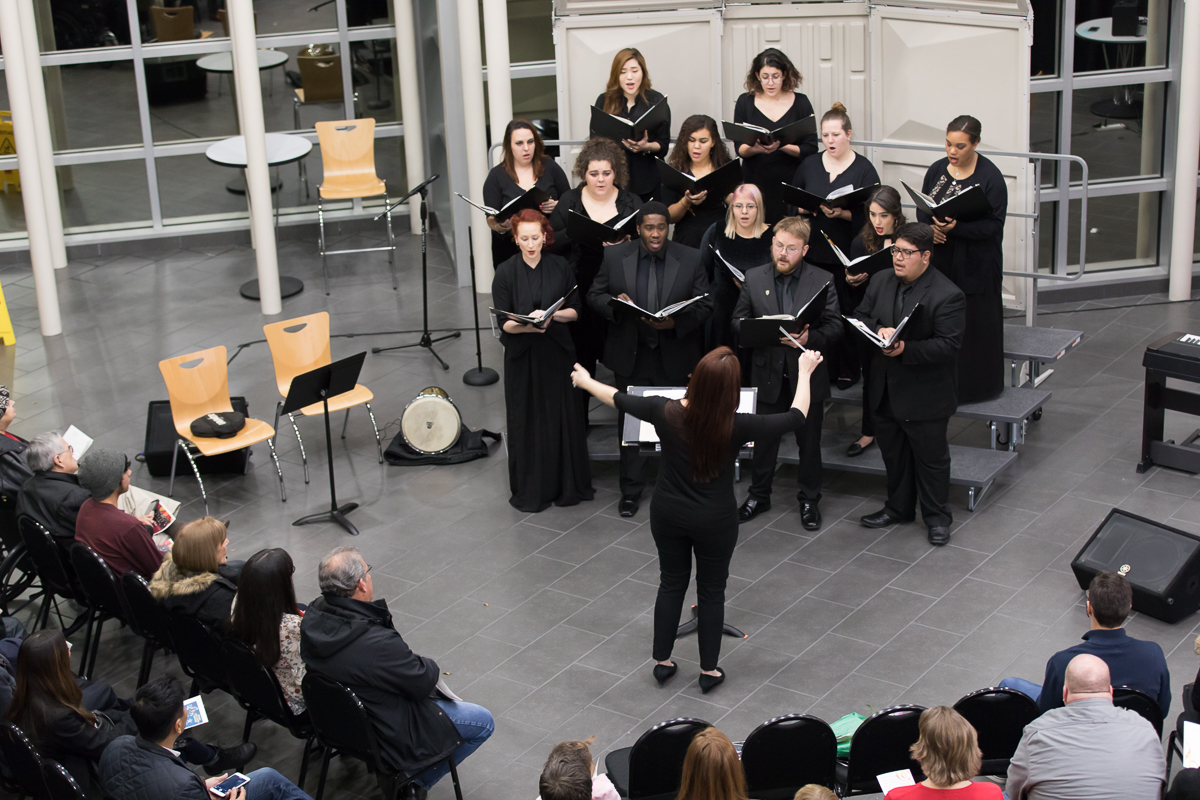 HOUSTON – The Lone Star College-University Park Concert Choir hosted its inaugural performance Thursday, Dec. 7. The choir performed a selection of choral pieces, madrigals, and holiday songs, along with solo performances by private voice students, to a packed crowd at the college.
The Concert Choir (MUEN 1141) is the college's first audition-based ensemble. The class is one of over 20 new music courses added in the 2017 – 2018 academic year, including Theory I-IV, Ear Training & Sight Singing I-IV, American Music, private voice and instrumental lessons, Music Literature, Class Voice, Class Guitar, Pop Singers, and Professional Development for Musicians.
LSC-University Park's fine arts program is expanding, especially in music. The college now offers all of the courses required to earn an Associate of Arts in music, which are transferable to Texas public universities.
"Our goal is to create and implement a quality two-year program that not only showcases outstanding faculty and performance opportunities, but is also a cost-effective solution for our students," said Jona Anderson, dean of arts and humanities at LSC-University Park. "The talented fine arts faculty at LSC-University Park are helping the college reach this goal, while providing the community with close-to-home cultural experiences."
"The music program now features robust opportunities for music majors and non-majors alike," said Dr. Aaron Alon, director of music at LSC-University Park. "We are now offering audition-based ensembles, private lessons, and a rich, growing concert calendar, all of which better serve our students."
To support fine arts' growth, the college brought seven new music faculty on board this academic year:
Dr. Alon earned his doctorate in composition from Rice University and has had his classical music performed worldwide. "BULLY," a feature film musical he wrote and directed, recently received its world premiere in Houston and his piece "Dulce Et Decorum Est" for baritone and string quartet was recently released on CD from Navona Records.
Dr. Mark Buller, a composer, teaches Ear Training and Sight Singing. Last summer, he had a new work premired by the Atlanta Symphony Orchestra, and the Houston Grand Opera recently commissioned and performed his major choral work "Overboard," with text by Leah Lax. Dr. Buller is currently preparing two works for a River Oaks Chamber Orchestra performance this spring.
Leah Dyer teaches private voice and is the director of the LSC-University Park Concert Choir. She is a classically trained soprano with experience in opera, oratorio, musical theatre and jazz. Dyer was a soloist at Carnegie Hall with the New York Pops and a resident artist with Opera Theater Pittsburgh, Pine Mountain Music Festival, Opera Saratoga, Central City Opera and Quantum Theatre.
Mark Thomas, a tenor, teaches private voice and class voice. He made his Houston Grand Opera debut as Isaiah in the World Premiere of David Hanlon's "After the Storm" and has performed in numerous operas and opera workshops at Houston Grand Opera, Des Moines Metro Opera, and the Moores Opera Center.
Eve Woodard is a celebrated guitarist and electric bassist. She is a professional studio musician and frequent Houston-area performer and recording artist. She teaches classical, electric, acoustic and bass guitar in private lessons, as well as Class Guitar
Additional voice and piano faculty will be announced shortly at LoneStar.edu/UPMusic.
"As more community members enroll at LSC-University Park to meet their educational and training needs, our course offerings and family of world-class faculty have grown," said LSC-University Park President Shah Ardalan. "We are excited to lead the expansion of innovative programs for students in our area, and we will continue to pave the way for the future."
A new fine arts building is currently in the programmatic phase at the college. The planned 40,000 square-foot facility will provide a wealth of new opportunities, as well as a large-capacity auditorium. Faculty will help design the facility.
LSC-University Park will host several art exhibitions, dramatic productions and musical performances this spring, including a staging of "Urinetown: The Musical," a second Concert Choir performance and the inaugural performance of the Pop Singers ensemble. For events and ticket information, visit LoneStar.edu/UP-Events.

For more information:
UPCollegeRelations@LoneStar.edu