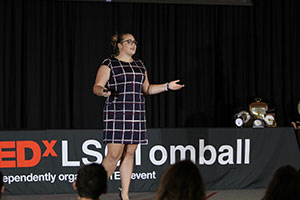 TOMBALL, TX – LSC-Tomball will host its third TEDxTomball event, Wednesday, Feb. 28, 9 a.m. – noon in the Performing Arts Center. This year's event will be focused on education.
"The general public should consider attending to hear about ideas and strategies that will better education in the community, K-12 and higher education," Kentrie LeDee, LSC-Tomball's Center for Organizational and Teaching Excellence (COTE) Program Manager said, before adding, "All of which could positively affect the community."
The first TEDxTomball event was held in 2015 and this year's event, according to LeDee, promises to be its best one yet.
LeDee went on to note that the difference between TED-Ed and TEDxTomball events of the past is that a typical TEDx is an event that takes a more global approach in the subject matter, theme and talks. TEDxED, she said, is more designed to spark ideas of teachers and students. The topics, themes and talks are geared toward education.
This year's event will feature 14 speakers. A few of those speakers, along with their topics, include:
Dr. Lee Ann Nutt, LSC-Tomball president – Are You a Belief Maker or Breaker?
Dr. Jerrel Wade, LSC-Tomball vice president of Administrative Services – It's Gotta be the Shoes
America Yolanda Lopez, Lone Star College grant developer – Empowering Diversity
George Williams, Tomball ISD instructional technology specialist – Education on the Red Planet: A Chance to Start Over?
Autumn Raynor, Houston Community College professor of speech communication – Recipe for a Right Mind
Paul Nimon, Lone Star College adjunct professor and high school English teacher – Education – Now Including Humans
Todd Nesloney, principal/lead learner at a PreK-5 school in Texas – Tell Your Story
Janeth Del Carmen Castellanos, LSC-Tomball graduate – Be the Butterfly
Jacob Files, LSC-Tomball student and an Honors College Fellow – College…I Can't Even
Cassandra Jones, Texas for Leadership for Educational Equity manager of organizing strategy – Teach and Resist: How To Revolutionize Your Classroom Through Community Organizing
Margaret Jelinek Lewis, LSC–Tomball professor of General Psychology– The Hard Task of Doing Nothing
Part of makes the event unique is that event speakers deliver an empowering speech in 18 minutes or less.
"Since we will have 14 speakers, they will speak for eight to 10 minutes," LeDee said. "The event is open to the public."
For free tickets, please visit: www.tedxtomballed.com.
Lone Star College-Tomball is located at 30555 Tomball Parkway, at the intersection of SH 249 and Zion Road. For more information about the college, call 281.351.3300 or visit LoneStar.edu/Tomball.
[Digital Photo Included. Cutline – LSC-Tomball student Mary Kouns presents at the last TEDxTomball in 2016. ]
-30-
Known for its leadership, innovation and steadfast commitment to student success, Lone Star College provides high-quality academic transfer and workforce education/career training programs to more than 83,000 credit students each semester, and a total enrollment of 95,000 students. LSC is training tomorrow's workforce today and redefining the community college experience to promote student success and economic prosperity. Stephen C. Head, Ph.D., is the chancellor of LSC, the largest institution of higher education in the Houston area, which consists of six colleges, eight centers, two university centers, Lone Star Corporate College and LSC-Online. To learn more visit LoneStar.edu.