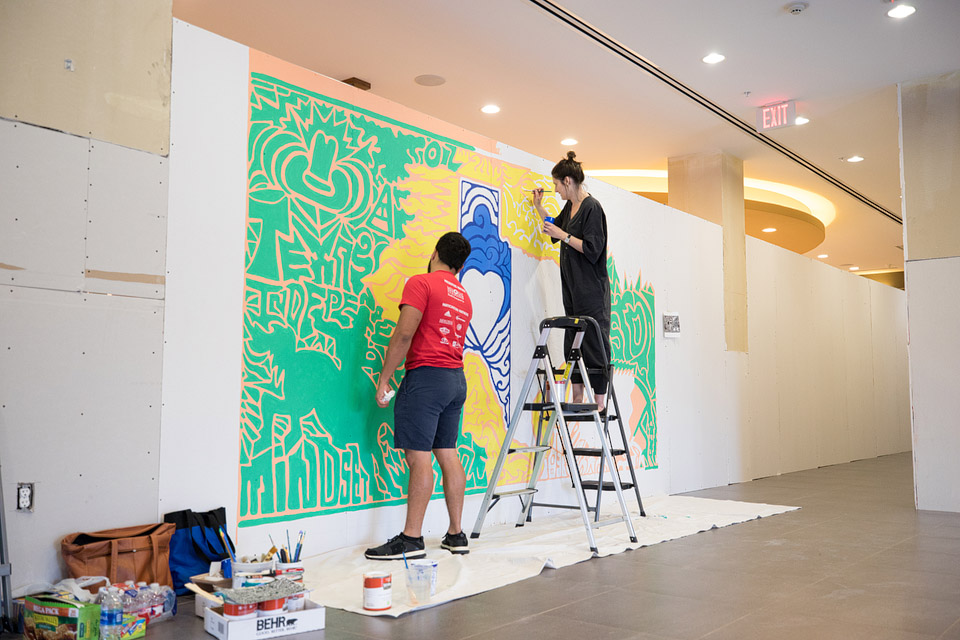 HOUSTON – In the immediate aftermath of Hurricane Harvey, Houston's resilience made headlines throughout the country, as did residents' strength and positive attitudes. Through a partnership with SpringHill Suites by Marriott Houston Northwest, Lone Star College-University Park students were no exception, using art to represent the #HoustonStrong theme.
Led by LSC-University Park art faculty Kari Breitigam, students transformed the temporary walls at SpringHill Suites. Located blocks from LSC-University Park, SpringHill Suites was flooded like many homes and businesses in the area.
SpringHill Suites has supported the LSC-University Park Fine Arts department in previous years by hosting student art shows and supporting enriching opportunities for students. Not wanting to leave students without a creative platform to showcase their work, the idea for art murals was born.
"In the face of devastation, our continued relationship with LSC-University Park and its fine arts department has turned into a friendship," said Olga Maciques, director of sales and catering at SpringHill Suites by Marriott Houston Northwest. "Hurricane Harvey did not dampen that spirit of working together at all; in fact, the art that has come out of this project speaks volumes about our community and we're proud to host it. I cannot thank the college enough for this selfless act of compassion and beauty while we continue to rebuild after Harvey."
When Mario Ramos, an LSC-University Park student, witnessed Harvey's destruction and the capable response of Houstonians, both through the news and family and friends, Ramos felt that Houston and Texas had an indomitable narrative. Ramos designed the two murals for the hotel to bring an uplifting message to the community and to help SpringHill Suites.
"To see Houstonians out helping one another was amazing," said Ramos. "I didn't know that many people owned boats! Houston didn't have time for complaining or waiting for help. We immediately got to work because that's the spirit of this city. These murals honor that spirit."
Both murals depict the #HoustonStrong theme through symbols and words that describe Houston and Texas. The first mural takes on the shape of the state of Texas, while the second mural illustrates the I-610 inner loop and Beltway 8 outer loop.With help from members of the Fine Arts Club, Ramos's designs were brought to life on the temporary walls of the hotel.
"It was a long process, from design to painting, to outlining," said Ramos. "I enjoyed working with others in the art club and it was pretty cool to see our hard work pay off. LSC-University Park has a great fine arts program and the college has supported the growth of my artistic practice."
"We are proud to have brought encouragement to our community through the art mural project at SpringHill Suites," said LSC-University Park President Shah Ardalan. "Our students join our faculty and staff in our long-standing tradition of community participation and betterment."
LSC-University Park's fine arts program is expanding as new students enroll in art, drama and music courses. The college is currently in the programmatic phase of bringing a dedicated arts building to the campus to accommodate the addition of classes and students.
"LSC-University Park was built on an invitation to innovate (i2i) and this extends to fine arts," said Ardalan. "Our fine arts program is continually growing, and as the community's college, we are working to support all of our students and their success."

For more information:
UPCollegeRelations@LoneStar.edu