Whether you are a recent high school graduate or a seasoned returning student, the Lone Star College-CyFair experience positively impacts your life – just ask these three scholarship essay winners.
Mikayla Kracko, Elizabeth Mitchell and Rioghonosa Okpiabhele were recently honored at the LSC Foundation's 25th Annual Chancellor's Breakfast.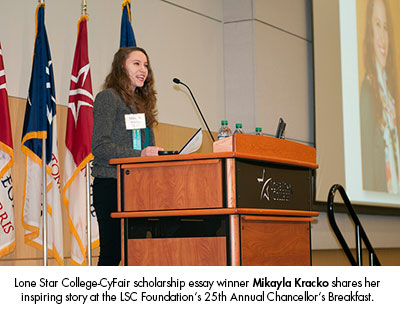 Representing LSC-CyFair's Barker Cypress campus, Kracko was one of six winners to share her story at the breakfast.
As the last of four children to attend Lone Star College in a family where multiple medical bills are taking a toll on resources, the essay scholarship will allow Kracko to focus on her path to becoming a middle school math teacher.
"Lone Star College introduced me to community, a place where I could learn, give, and grow while finding and pursuing my passion to teach. The community I discovered changed my life by providing me with mentors and helping me chart a course for the future, while living fiercely in the present," said Kracko, who began her college journey at LSC-CyFair as a Dual Credit high school student and plans to transfer to the University of Houston-Victoria.
Mitchell, essay winner from LSC-Cypress Center, returned to college last summer after being laid off to earn her associate of applied science in industrial electronics technology.
Having enjoyed the complexity and challenge of a technical career in oil and gas engineering design for 25 years both in the United States and abroad, Mitchell said she felt she needed a degree as a scholarly endorsement on her resume.
"The fact that Lone Star offered a program that related to my present career gave me a very positive reason to register and get started," said this full-time mom of two elementary-aged children, wife and now a full-time student. "Lone Star has significantly shaped and directed me and, perhaps more importantly, has shown me that I can still become more than I imagine."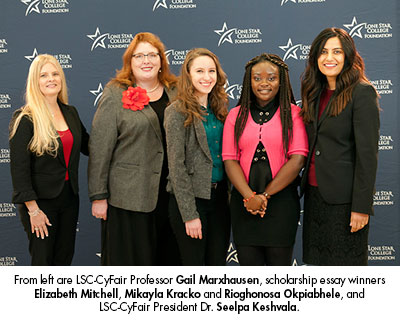 Enrolling at LSC-Fairbanks Center last summer was a most terrifying decision for Okpiabhele, a16-year-old from Nigeria and future nurse practitioner or pediatrician.
"I knew (attending college) was something I had to do if I wanted to reach my dream of myself in a white coat and glasses helping little kids in a colorful, beautiful hospital, so there was no contemplating or compromising," said Okpiabhele, who plans to transfer to Prairie View A&M after earning her associate degree.
Thanks to her professors and resources available at the college, she said she is a positive, confident, strong female who believes she can do whatever she wants.
All essay winners received $1,000 scholarships made possible due to the generosity of LSC Foundation donors and supporters. The LSC Foundation manages assets of $27 million, with more than $14 million committed to endowed scholarships.
For information on other foundation events, go to LoneStarCollegeFoundation.org. For information on LSC-CyFair, go to LoneStar.edu/Cyfair