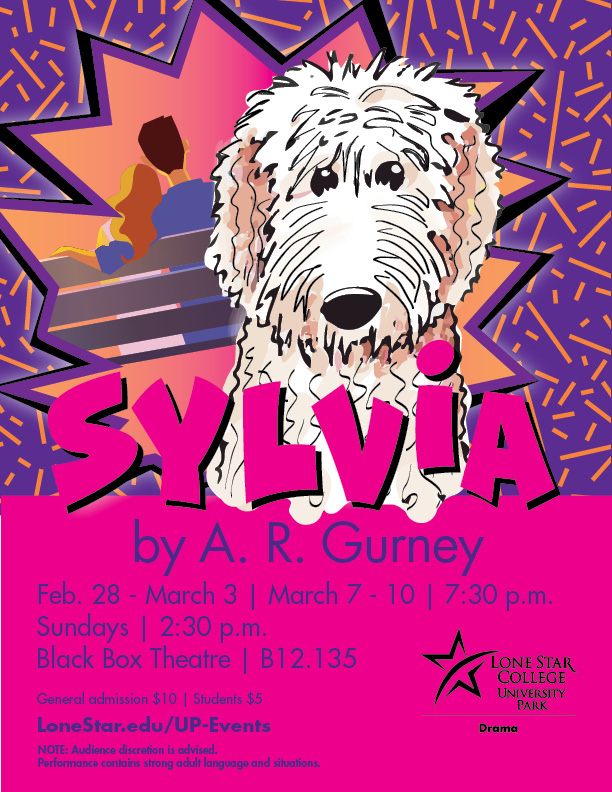 The LSC-University Park Drama Department will stage A. R. Gurney's "Sylvia" Feb. 28 – March 7 at the college's Black Box Theatre.
Set in 1980's New York, "Sylvia" is about a dog, the couple who adopts her, and the comedy that results. "Sylvia" is a smart, silly, sophisticated, and occasionally salty comedy about relationships, nature, and growing older.
Students, faculty, staff and the community are invited to attend the upcoming performance. Tickets can be purchased at LoneStar.edu/UP-Events at $5 for students and $10 for general admission.
"Sylvia" showtimes:
Feb. 28 – March 2 at 7:30 p.m.
Sunday, March 3 at 2:30 p.m.
March 7 – 9 at 7:30 p.m.
Sunday, March 10 at 2:30 p.m.

Auditions:
Students who are interested in auditioning for the production can visit LoneStar.edu/UP-Auditions for more information and to sign up. Auditions will take place Jan. 15 – 16 and will consist of cold readings from the script and monologues of any style.