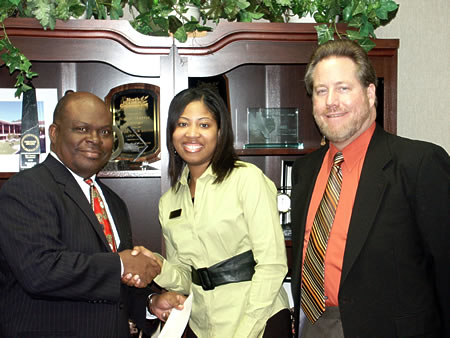 Shown: Dr. David Sam, president for North Harris College (far left) and Ken Feld, NHC's financial aid director (far right) gratefully accept a generous $2,000 donation from Leslie Simpson AVP, School and Lender Services, Panhandle-Plains Student Loan Center representing Panhandle-Plains Management & Servicing Corporation. In a message sent to NHC from the corporations' President and CEO, Terry Langehennig, Langehennig recognized the work that NHC does to prepare and educate students and offered this contribution to help provide needed financial aid funds to assist students in achieving their educational goals.
North Harris College is located at 2700 W.W. Thorne Drive., one-half mile south of FM 1960 East, between Aldine-Westfield and Hardy Roads. For more information about the college, call 281.618.5400 or visit: northharris.lonestar.edu
NHMCCD, among the five largest and fastest growing community colleges in Texas, comprises, North Harris College, Kingwood College, Tomball College, Montgomery College, Cy-Fair College, six satellite centers, and The University Center.
###
FOR IMMEDIATE RELEASE 01/18/2007
For media inquiries please contact:
CeCe.Sutphen@lonestar.edu
281.618-5425 voice
281.618-7105 fax
281.639-6381 cell