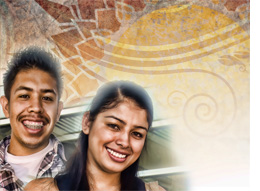 In celebration of Hispanic Heritage Month, Lone Star College-CyFair is hosting activities open to all from Sept.14 through Oct. 13.
"The purpose of this celebration is to provide exciting, engaging and academic enhancing activities to promote awareness of the Hispanic culture to all who participate with social, academic and networking opportunities," said Student Activities Program Manager Daniel Villanueva.
The celebration kicks off with a lecture series presentation with Judge Reece Rondon's "My Story" Sept. 14. Other presentations are Dr. Victor Saenz's "Minority Student Trends in Higher Education" Sept. 22, "Latina Trailblazers" Sept. 29 and Roy Juarez's "Homeless by Choice" Oct. 3 and Oct. 4.
Forums will be held including Career Advice from Successful Hispanics Sept. 19, "In Search of Wholeness: The Latino/a Experience" Oct. 5 and "Hispanic Trailblazers" Oct. 11.
To learn more about the culture through dance, enjoy the Mariachi Imperial Sept. 16, Latin Dance Showcase Sept. 29, Folklorico Celebration (featuring students of Benjamin Franklin Elementary School) Oct. 10 and a Salsa Concert and Dance Contest Oct. 13.
Spice up the day with a Mexican cuisine Sept. 16, a free Fiesta Feast Sept. 21, Cuban cuisine Sept. 29 and Venezuelan cuisine Oct. 12.
Attend the film festival featuring Hispanic themed movies Sept. 27 and Oct. 11 as well as the book club "How the Garcia Girls Lost Their Accents" Oct. 13.
LSC-CyFair's Faculty Senate and the Friends of the Library are co-sponsoring the Sept. 22 lecture and Oct. 13 book club respectively.
For details on these month-long activities, which will be held mid-day and in the evenings, go to LoneStar.edu/student-activities-cyfair or call 281.290.3270.