Uproar Magazine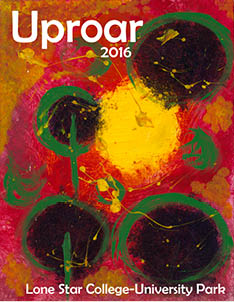 Uproar, Lone Star College-University Park's student literary/arts journal, is published every spring. Any LSC-University Park student enrolled in a credit course may submit pieces or join the staff.
For consideration for the 2018 Uproar, students must have submitted their poetry, short stories, essays and art by Friday, Nov. 10, 2017.
For guidelines, download the Uproar Submission Form.
Entries and submission forms may be turned in to the advisor offices in B13.811, B13.823, or the Uproar submission box, located in the Writing Lab in the LSC-University Park library on the 8th floor. Digital entries and submission forms may be emailed to Uproar@LoneStar.edu.
Every piece submitted will be entered into the Uproar Contest. Entries will be judged by faculty members, who will select an art piece for the cover and first, second and third place winners in poetry and in prose. First- through third-place winners will receive gift card awards worth $100, $75 and $50, respectively. The artist who creates the artwork selected for the cover will receive a $100 gift card.
The 2016 edition, pictured above, was the forth volume of the magazine and featured contributions from the following students:
Ice Cream and Chill by Hai Tran - 1
Mango Mischief by Hessami Hernandez - 4
Spitting Salt by Hayley Tudor - 5
Unseen Sounds by Chase Hodge - 10
Pieces of Me by Nichole Kyle - 11
Nothing Typical About It by Melissa Millspaugh - 15
Hedgehog by Brittany Lempicki - 16
At Ye Festival by Diego Bonilla - 17
Blank by Amanda Fulton - 21
Blizzard by Doug Grimberg - 22
Crimson Shades by Hessami Hernandez - 23
Dark Bishop by Jackie Primeau - 26
Fried Crazies by Brittany Allen-Boyd - 27
Doppelganger by Carlos Figueroa - 31
Butter Cakes and Cream Pies by Shawnatae Scranton - 32
All Cars Go to Heaven by Chase Hodge - 33
American Rider by Sierra Rupert - 35
Absract #1 by Tara Chapman - 36
April by Jesela Cantu - 37
Red & Blue Swirls #1 by Chloe Mayeax - 38

Rainbow Lion by Hollie Frye - 39
Patience by Michael Small - 40
Out of the Past by Kenneth Keung - 41
Danielle by Michael Walker - 42
Blue by Kenneth Keung - 43
Uplift by Chase Hodge - 44
Stay Chill by Miguel Chavez - 45
Horsepower by Jennifer Arvai - 46
Paper Thin by Brittany Zambrano - 47
Dark Summer Nights by Karla Gonzalez - 51
Toddlers and Affairs by Jackie Primeau - 52
Banana Bread by Angelique Barber - 56
You're Probably Okay by Matthew Hart - 57
What is Government? By Jesse Rodriguez - 62
Sunday Afternoon by Karla Rodriguez - 63
Haunted Hotel by Lauren Bigbie - 69
Baggage by Dora Campuzano - 71
Perception by Melissa Millspraugh - 74
Broken Honey or How to Win The Love Game by Cody Hurley - 75
15 by Brittany Zambrano - 78
Frozen by Katelyn Albrecht - 79