LSC-Conroe Center Teams Up With Workforce Solutions to Provide Machining, Welding Education and Careers
Lone Star College-Conroe Center has teamed up with Workforce Solutions to provide free workforce training to unemployed individuals seeking em-ployment in the high-demand career fields of welding and machining.
The collaborative efforts will offer funding for program tuition and books to qualifying individuals as part of the Accelerate Lone Star initiative. This grant program allows qualifying Lone Star College System students to earn a workforce certificate while building core skills in math, reading, and language during a coinciding support class. Intensive advising keeps students on-track for program completion, and ultimately, job placement.
Accelerate Lone Star operates primarily out of LSC-Conroe Center; however, Lone Star College-University Park, and Lone Star College-Victory Center also offer the programs under this grant, as well.
Interested individuals are encouraged to contact Martin Sanchez, Accelerate Lone Star advisor, at (936) 521-4552; Esther Stokes, Accelerate Lone Star coordinator, at (936) 521-4543.
This opportunity is great for those looking to be job-ready in just six to eight months. According to RESOURCE, jobs in machining and welding are expected to increase by 42 percent and 26 percent respectively in the Gulf Coast region over the course of 2010-2020?.
Eligibility & Requirements
Must be at least 18 years old
Must be unemployed for at least six months (proof of lost wages required)
Must take a Adult Basic Education Test (TABE)
Visit your nearest Workforce Solutions Office to see if you qualify.
Partners
The NEG Grant is funded by the Texas Workforce Commission and the Texas Higher Education Coordinating (THECB), under the "Accelerate Texas" state initiative. THECB provides leadership and coordination for the Texas Higher Education System and works to achieve excellence for the college education of Texas Students.
Aind out more information about Accelerate Texas.
Lone Star College-Conroe Center Staff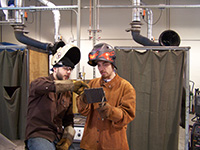 Martha Neely, Grant Project Director
936.521.4530
Martha.L.Neely@LoneStar.edu
Room # 124K
LSC Conroe Center
Martin Sanchez, Advisor II
936.521.4552
Martin.Sanchez@LoneStar.edu
Room # 100F
LSC Conroe Center
Esther I. Stokes, PT Coordinator I
936.521.4543
Esther.I.Stokes@LoneStar.edu
Room # 124F
LSC Conroe Center
Anthea Diaz, PT Office Coordinator
936.521.4538
Anthea.Diaz@LoneStar.edu
Make LSC part of your story.