Access D2L anytime via D2L.LoneStar.edu or via my.LoneStar.edu.
Introduction to D2L
Click the image below to view a PowerPoint created by LSC-Houston North Library Services. The presentation takes you through the basic useage of D2L, and is available in English and Spanish.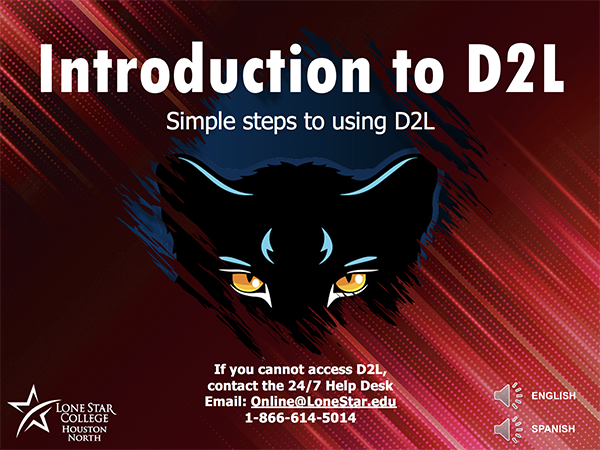 D2L Homepage
To help familiarize yourself with D2L, let's go over some basics of navigating the D2L Homepage.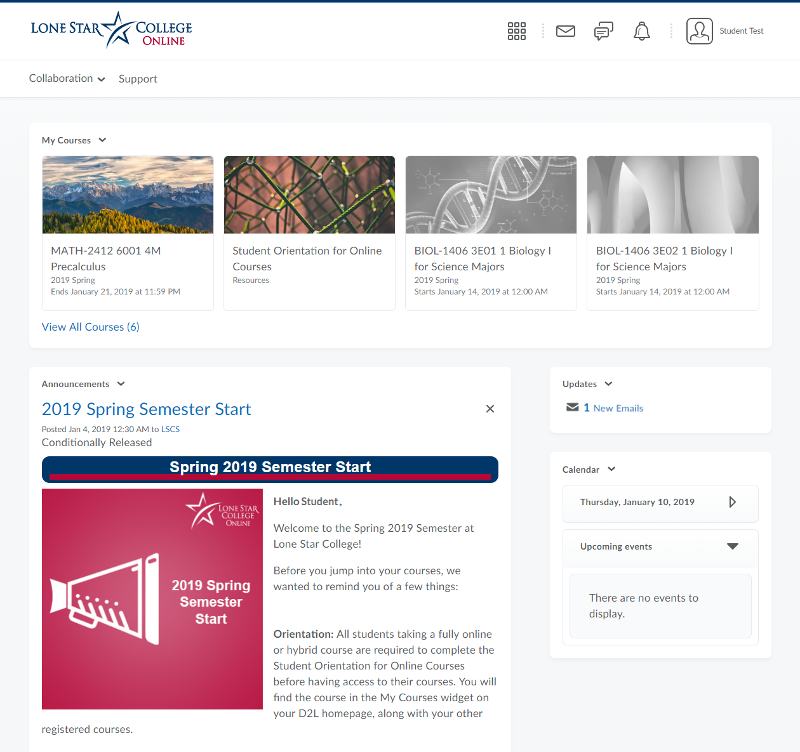 The Minibar
The Minibar contains icons for you to access your courses, read alerts, and update your D2L profile settings.

Minibar Icon Descriptions and Functions


Lone Star College logo:
Takes you back to the D2L homepage.

Select a Course Icon:
Allows you to select or pin a course.

Message Alerts Icon:
Notifies you of unread instant messages or D2L emails.

Subscription Alerts Icon:
Notifies you of new posts for subscribed items.

Update Alerts Icon:
Notifies you of new and updated announcements, dates, and grades.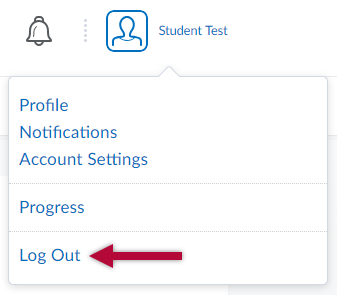 Personal Menu:
Options to edit profile, notifications, or account settings, view course

The Navbar
The Navbar provides links to course tools. On the D2L Homepage, only the Collaboration menu and Support links will display. The Navbar will change once you enter a course and may not look the same for every course. The Support link in the Navbar will take you to the Virtual Learning Assistance Center, commonly referred to as VLAC, which contains technical support information as well as resources for being an online student and using D2L.



My Courses
The My Courses widget displays the current semester's courses as well as any courses you have pinned. Upcoming courses that have not started yet or courses that have ended and are closed will be grayed out and unable for you to access, including pinned courses. You may view your courses by clicking the View All Courses link, located in the bottom left of the My Courses Widget.


Announcements, Updates, and Calendar
The Announcements widget contains system announcements related to D2L (such as the one shown in the picture below) and any course announcements posted by your instructors. The most recent announcements will appear at the top of the widget, unless they have been dismissed. Be sure to check the Announcements widget for relevant and up-to-date information.
The Updates widget will show the number of unread emails. Once in a course, you will be able to see if there are unread discussion posts, assignment feedback, or quizzes to take.
The Calendar widget will display instructor-created course events once you are in a course.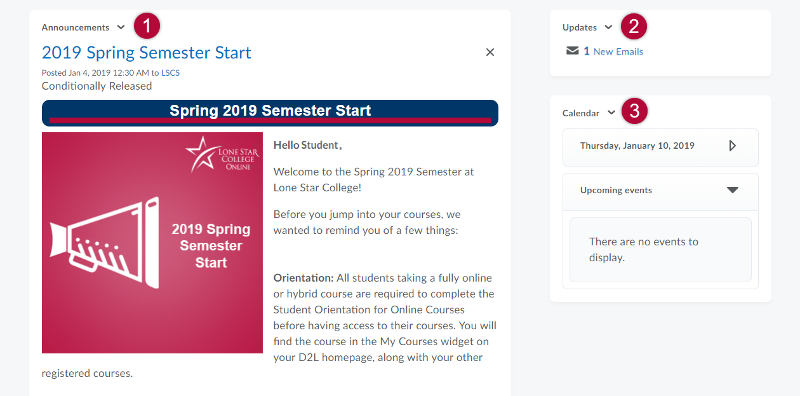 Video Overview: D2L Homepage
The video below will provide further information about the D2L homepage. Click the Play button in the bottom left to watch the video.

Make LSC part of your story.