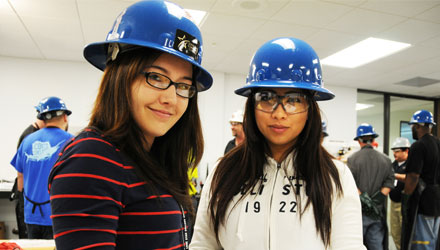 High School Articluation is an agreement between Lone Star College (LSC) and Independent School Districts to match high school career and technical education (CTE) courses with college CTE courses. LSC participates in the Advanced Technical Credit (ATC) program. Texas high school graduates may receive college credit for high school ATC designated courses at any participating community college in the state of Texas. ATC courses are not offered at all high schools.
The ATC Texas Program began sunsetting on August 31, 2018. The final school year to complete an ATC high school course will be the 2020-2021 academic year. The final high school students eligible for ATC credit will graduate in May 2024.
College credit awarded for ATC high school courses may be applied to course requirements leading to a certificate and/or an Associate of Applied Science (AAS) degree in many LSC career and technical programs of study. In addition, many universities accept career and technical education courses in Bachelor of Applied Arts and Sciences (BAAS) programs. Students interested in learning how ATC courses will apply to their intended program of study are encouraged to speak to a LSC academic advisor or visit LSC Articulation and Transfer Services.
For more information regarding the ATC program and local articulation agreements, please view our comparison chart* and see your high school counselor or LSC academic advisor.
Requirements for college credit of high school ATC course:
ATC course must be taught by a certified ATC instructor.
ATC courses completed in the freshman and sophomore year are eligible for credit, but the final course in the program of study must be completed in the junior or senior year.
Earn an 80 or above in the ATC course.
ATC course must be identified with an "A" on the high school transcript.
Apply for college credit within 15 months of high school graduation. The college may only award college credit for the ATC course if the aligned CTE course is offered at the college.
2019 - 2020 (Final) ATC Course Listing
Make LSC part of your story.