LSC-Montgomery Medical Radiologic Technology Department
Radiology and medical imaging are exciting fields within the healthcare industry. Lone Star College-Montgomery's radiologic technology program capitalizes on expanding opportunities by partnering directly with area hospitals and clinics to provide a unique, two-year associate of applied science (AAS) degree plan. This program is accredited by the Joint Review Committee on Education in Radiologic Technology.
20 North Wacker Drive, Suite 2850, Chicago, Illinois 60606-3182
If you have questions; Phone: 312-704-5300 Email: mail@jrcert.org
The JRCERT is the only agency recognized by the United States Department of Education (USDE) and the Council for Higher Education Accreditation (CHEA) for the accreditation of traditional and distance delivery educational programs in radiography, radiation therapy, magnetic resonance, and medical dosimetry. Specialized accreditation awarded by the JRCERT offers institutions significant value by providing peer evaluation and by assuring the public of quality professional education in the radiologic sciences.
Program #0496
Accreditation Status: 8 Years
Most Recent Site Visit: 10/2016
The interim report for the continuing accreditation status of the associate degree radiography program sponsored by Lone Star College - Montgomery was considered at the June 22, 2021 meeting of the Joint Review Committee on Education in Radiologic Technology (JRCERT). The program was evaluated according to the Standards for an Accredited Educational Program in Radiography (2014). The program documents compliance with all relevant Standards; therefore, the JRCERT awards: MAINTENANCE OF ACCREDITATION FOR A PERIOD OF EIGHT YEARS. The next site visit is tentatively scheduled for the Fourth Quarter of 2024.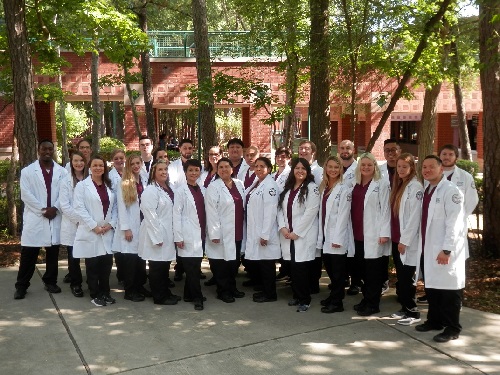 Information Sessions
The schedule for upcoming information sessions for Montgomery Campus is as follows:
| | | |
| --- | --- | --- |
| Date: | Time: | Location: |
| Tuesday, March 28, 2023 | 2:00pm - 3:00pm | B211 |
| Monday, April 24, 2023 | 1:00pm - 2:00pm | B102 |

In order to assist in your learning more about Medical Radiologic Technology as a career, and the particular requirements of our program, you are strongly encouraged to download the attached online information session documents listed below.
Online Information Session Documents Part 1
Online Information Session Documents Part 2
These documents have all the necessary information we normally discuss during the on-campus information sessions.
Topics Covered in Part 1 and Part 2 Information Session Documents:

• The profession of medical radiologic technology
• Requirements for admission to the medical radiologic technology program
• Timetable for the application and admission process
• Preparing yourself for application
• Medical radiologic technology program courses & sequence
Application Process Checklist and Scoring Sheet
2023 Application Process: Important Dates for LSC-Montgomery Applicants
Application period starts: July 5, 2023
Application period ends: October 6, 2023 at 5:00 p.m.
Program start date: Admitted students will begin their 2 year program in the SP of 2024 (January 2024).
[How to Apply] has information on how to access and upload copies of your credit advising transcript, radiology department observation, work experience documentation, and approved healthcare occupations' licenses/certifications.
For more information, please contact Dr. Francis Ozor at fcozor@lonestar.edu or (936) 273-7412.
Mission Statement
The mission of Lone Star College Montgomery, Medical Radiologic Technology Programs, is to provide a comprehensive education of structured learning experiences and to assist in meeting the community's need for medical imaging professionals. The program's curriculum combines didactic and clinical education experiences to enable the student to acquire knowledge; develop medical imaging skills; professional values; and the desire for life-long learning. Graduates of the programs are effectively prepared for entry-level positions in the medical radiologic technology profession.
Program Goals and Student Learning Outcomes
Goal #1: Graduate entry-level Medical Radiologic Technologists, who are effectively prepared to pass the ARRT National Certification/ Credentialing Examination at first attempt.
Student Learning Outcomes:
MRT students will complete the program in 24 months and graduate with an AAS degree
MRT graduates will pass the ARRT national credentialing exam, at first attempt, within six months after graduation.
MRT graduates will be employed in the Radiologic Technology profession within 6 months after graduation.
Goal #2: Develop clinical competency in program students
Student Learning Outcomes:
a. MRT students will demonstrate radiographic procedures/positioning skills
b. MRT students will select and apply correct exposure technique factors
c. MRT students will demonstrate the practice of adequate radiation protection
d. Employers will be satisfied with MRT graduates' entry-level clinical competencies and job performances.
Goal #3: Develop effective communication skills in program students
Student Learning Outcomes:
a. MRT students will demonstrate proficiency in written communication skills.
b. MRT students will demonstrate proficiency in oral communication skills.
Goal #4: Develop critical thinking skills in program students
Student Learning Outcomes:
a. MRT students will critically analyze radiographic images and determine diagnostic quality
Goal #5: Develop professionalism in program students
Student Learning Outcomes:
MRT students will demonstrate professional work ethic
MRT students will summarize the value of professional development and life-long learning
Program Overview
Lone Star College - Montgomery offers a two-year Associate of Applied Science degree program in Medical Radiologic Technology. A prospective student must be 18 years or older to be admitted and enroll in the professional phase of the MRT program. Enrolled students receive classroom instructions (didactic education) at the college and clinical education experiences at affiliated hospitals and clinics. Radiography education is a competency-based education, which exposes the student to the underlying principles of radiologic sciences and varieties of hands-on learning experiences that enable the student to acquire knowledge, develop and enhance imaging skills, and successfully complete required clinical competencies and outcomes.
Student learning outcomes in didactic education are assessed using combinations of unit tests, quizzes, research projects, term papers, classroom discussions, presentations, and final comprehensive examinations. Clinical education learning outcomes and skill development are assessed by way of clinical competency demonstrations and testing in program laboratories and at affiliated clinical education sites. Students receive letter grades in both didactic and clinical courses at the end of each semester, and they are required to achieve and maintain a grade of "C" (75%) or better in each course, in order to continue in the program and graduate. Program graduates are effectively prepared to pass the American Registry of Radiologic Technologists' (ARRT) national certification/ credentialing examination at first attempt.
Lone Star College-Montgomery, MRT Sequence of Courses
Clinical Affiliates
Program Effectiveness and Outcomes Assessment Data
December 2017 - December 2021 LSC-Montgomery MRT Program Effectiveness and Outcomes Data
"If you are considering a career in radiography, you will want to choose an accredited educational program to prepare you for your career. Successful completion of a JRCERT-accredited program assures that you will be provided with the knowledge, skills, and professional values required for career success. The JRCERT monitors performance measures of programs and makes this information available to the public". Click on the link below to view Lone Star College – Montgomery Accredited Program Details.
https://www.jrcert.org/programs/lone-star-college-montgomery/
Notice to Students Regarding Licensing
Effective September 1st 2017, HB 1508 amends the Texas Occupations Code Section 53 that requires education providers to notify you a potential or enrolled student that a criminal history may make you ineligible for an occupational license upon program completion.
Make LSC part of your story.