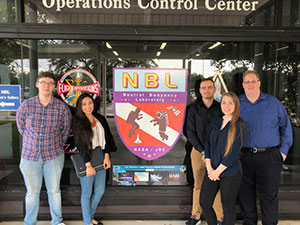 Lone Star College-CyFair has the honor of being the only community college in the nation participating in this year's NASA's Micro-g NExT Challenge. Students in the Engineering Program turned heads with their award-winning, uniquely designed, zip tie cutter tool recently tested at NASA's Neutral Buoyancy Laboratory (NBL.)
"LSC-CyFair's tool has tested so well that NASA has also reached out to our team about further on-site testing opportunities, which can potentially lead to adapting this tool for future NASA missions," said Professor of Engineering Yiheng Wang who co-advises this team with Professor of Engineering Technology Jared Cammon.
Creation, design and work on the prototype of this future space tool (a pen-shaped tool with which the astronaut can cut and retain a zip tie securely in a motion similar to clicking a pen) began a year ago, Wang said. Last fall, the LSC-CyFair team won multiple categories at the Texas Space Grant Consortium's (TSGC) Annual Design Challenge against mostly senior teams at four-year universities. With further first-place TSGC wins this spring, including Top Design Team, they advanced to NASA's Micro-g NExT Challenges to test their design in the NBL along with top engineering universities, such as UCLA, Virginia Tech, Cornell and Purdue.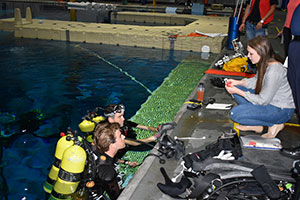 Tools were tested in the NBL 6 million gallon, 40-foot-deep, pool used for Extravehicular Activity (EVA) equipment and operations testing and spacewalk training for astronauts.
"Our tool test was amazingly successful. Our team achieved all of their testing objectives including verifying that the tool could cut, extract and retain zip ties set up in several different orientations and formats," said Cammon. "It was clear that the divers were very pleased with the tool as well. They complimented the team on its simplicity, its versatility and its ease of use. It even came to the point where we were told to stop cutting zip ties so there would be some left for other teams!"
On testing day, LSC-CyFair's Team CERO (an acronym name - Cutting, Extraction, and Retention Operations – based on their tool design) members Maria Gonzalez, Francesca Liso, Daniel Vasek, Sean Palmer and James Philippi, briefed the divers on the operation of their tool. In the NBL control booth, Philippi, designated as the Test Coordinator, was the only one authorized to speak directly to the divers during the test. Team members were excited and relieved as they watched the simple design of their tool work repeatedly with each cutting attempt successful.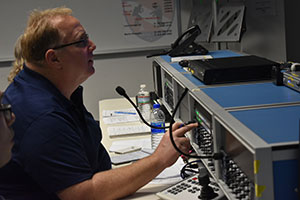 "But, the students' work isn't done yet," said Cammon. "They still have improvements to consider based upon the results of the NBL testing, such as a double locking mechanism so you don't accidentally depress and release the zip tie and brainstorming a better way to make one-handed use more stable."
While at NASA for the Micro-g NExT Challenges, Team CERO also had opportunities to talk to NASA directors, managers, engineers and divers. They met with Victor Glover, an astronaut currently in training for future missions and watched other astronauts training in the NBL pool. In addition, they toured Space Center Houston and took a virtual reality tour of the International Space Station.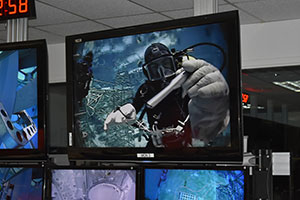 Team CERO (which included former members Dylan Robbins, DeJuan Miller, Ryan Gomez and Elijah Salandanan) took their zip tie cutter tool from thought to manufacturing to testing in a real-world environment at NASA and found success. They gave presentations, accepted feedback and made modifications as team and the hard work paid off. They appreciated the help of their NASA mentor and faculty advisors as well as the training on 3D printers at the LSC-Cypress Center and the support of Sond Industries in making their prototypes and Panduit's donations of zip ties..
See Team CERO's project summarized in this video: https://youtu.be/lfVhMOWwKIU. For information about the LSC-CyFair Engineering Program, visit LoneStar.edu/engineering-dept-cyfair.
Registration is open for summer sessions, which start June 4 and July 12 and for fall classes, which start Aug. 27. For information, go to LoneStar.edu/registration.