LSC-Cypress Center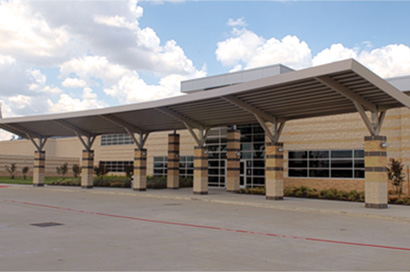 Located at Clay Road at Fry less than three miles from the I-10 energy corridor, the Lone Star College-Cypress Center is a full-service, satellite campus, which opened in 2013 and now serves nearly 2,000 students. In addition to core academic courses and transitional education courses, the center houses more than 15,000 square feet of workforce space with industrial labs for the workforce programs including: Drafting, Engineering Technology, Geographic Information Systems, Machining and Welding.
Contact and Address
Lone Star College-Cypress Center
19710 Clay Road
Katy, TX 77449
Phone: 832.920.5000
LSC-Cypress Center will be closed December 21st - January 3rd for Winter Break.
Spring 2018 Operating Hours:
January 4th - May 13th
Building Hours
Monday - Friday
6:00 am - 12:00 am
Saturday
7:00 am - 5:30 pm
Student Services
Monday - Thursday
8:00 am - 7:00 pm
Friday
8:00 am - 4:30 pm
Saturday
9:00 am - 2:00 pm
Business/Payment Office
Monday - Thursday
8:00 am - 7:00 pm
Friday
8:00 am - 4:30 pm
Saturday
CLOSED
**Business Office will be open 1/6 & 1/13 from 9:00am - 2:00pm
Learning Commons
Monday - Thursday
8:00 am - 9:00 pm
Friday
8:00 am - 4:30 pm
Saturday
9:00 am - 2:00 pm
Testing
Monday - Thursday
8:00 am - 8:00 pm
Friday
8:00 am - 4:30 pm
Saturday
9:00 am - 2:00 pm
Bookstore
Monday - Thursday
8:00 am - 5:00 pm
Friday
9:00 am - 2:00 pm
Saturday
CLOSED
**Bookstore will be open 1/13 & 1/20 from 9:00am - 2:00pm
LSC-Cypress Center will be Closed:
January 15th MLK Holiday
March 12th - 18th Spring Break
March 30th - April 1st Spring Holiday
Academic Offerings
Academic Transfer Courses
Transitional Education Courses
Workforce Programs
Engineering Design Graphics (Drafting)
Engineering Technology
Machining
Welding
Services
Learning Commons - Library Services
Tutoring Center
Bookstore
Business Office
Faculty Suites
Registration and Advising
Testing Center
Student Study Spaces
Room Reservations