Our Students
Before graduation, students participate in an internship at a local biotechnology or other lab focused company. This experience helps them make the transitition from the skills practice to skills application. All students have been very successful in this program as they contribute to the goals of their employer's company.
2017 Biotechnology Intern Students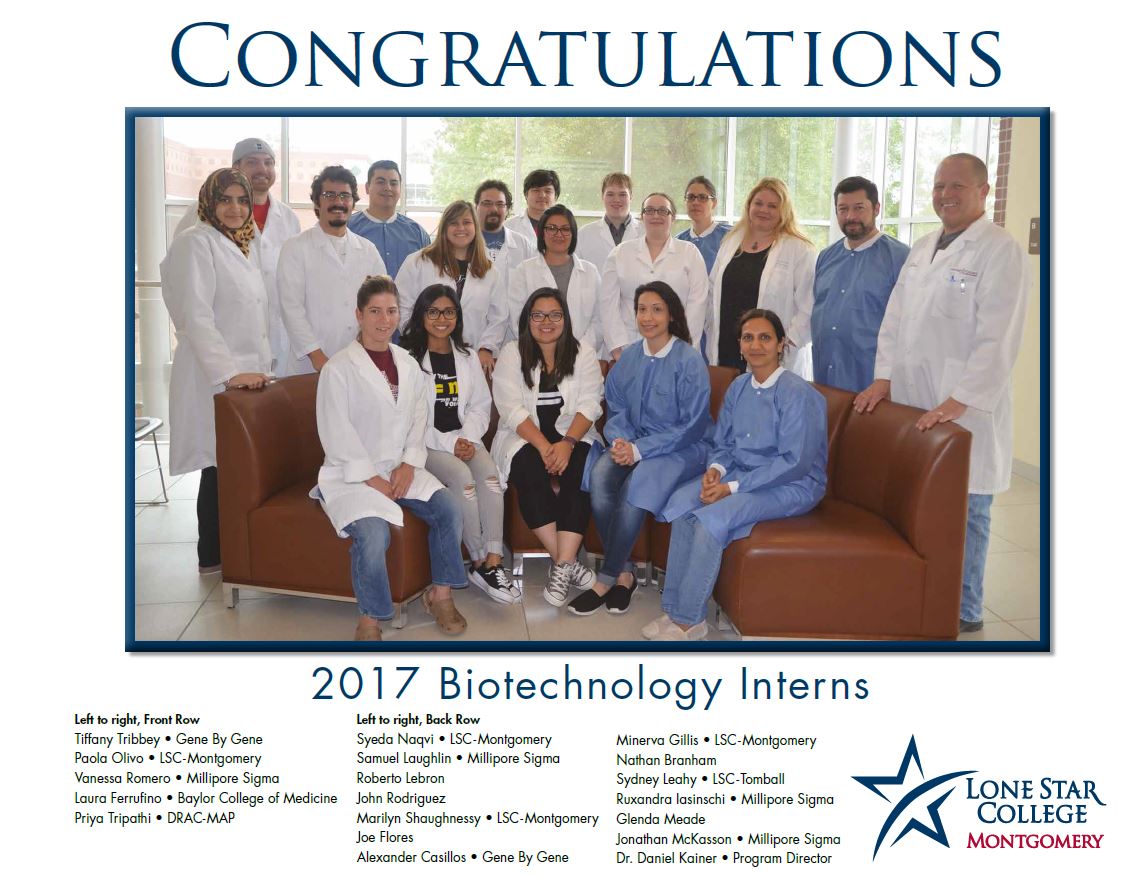 2015 Biotechnology Intern Students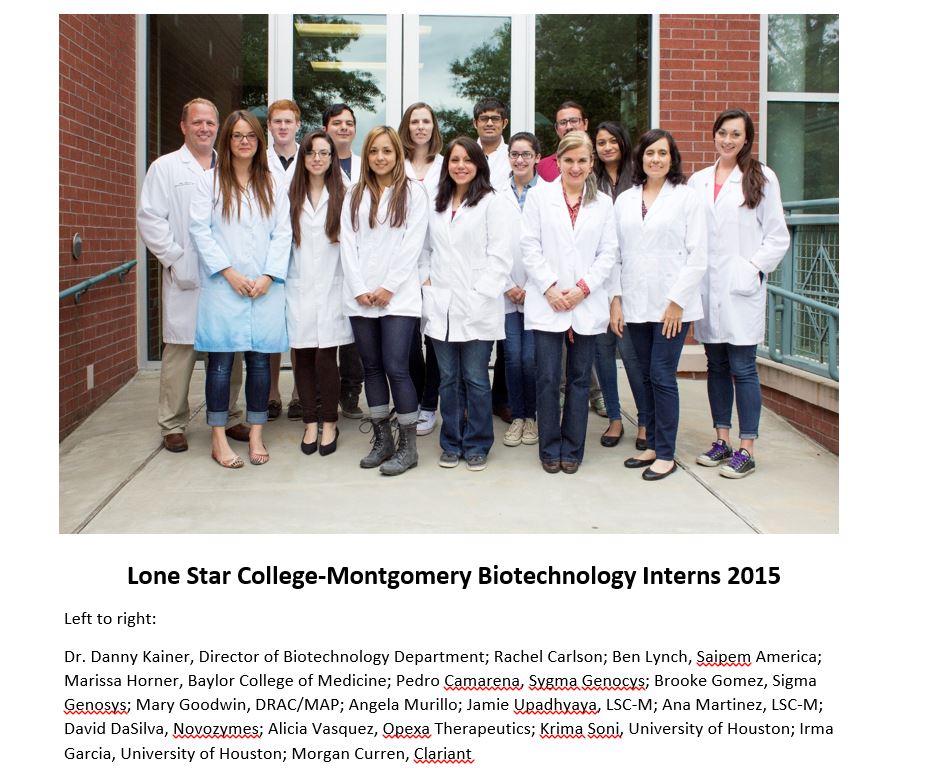 2014 Biotechnology Students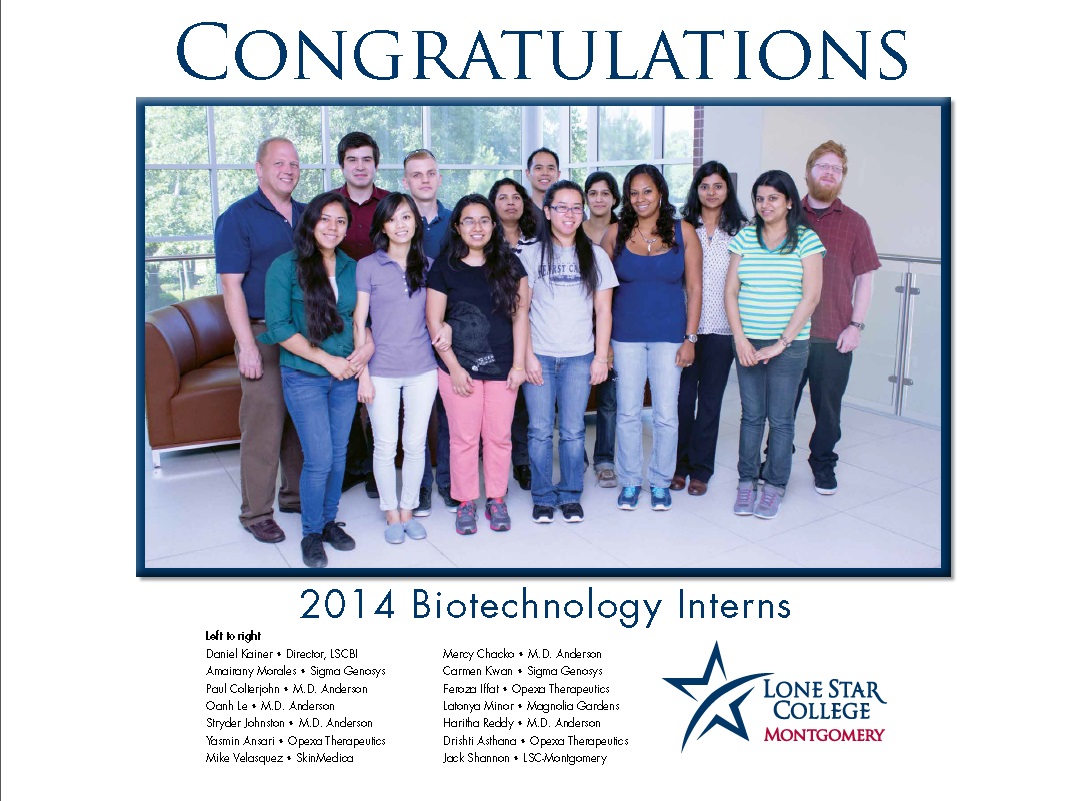 2013 Biotechnology Students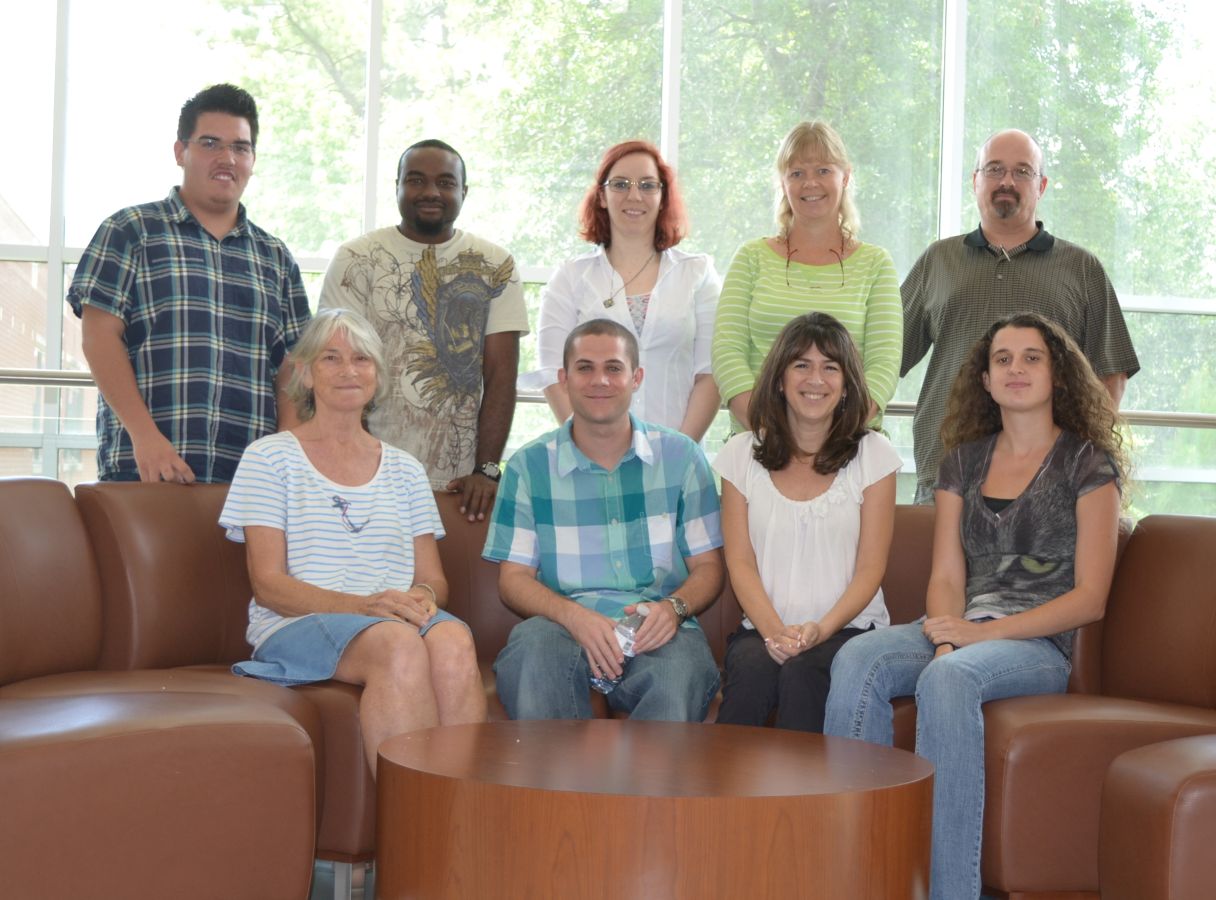 Back Row, left to right: Erik P: LSC-M (Algae); Isaac T: Haliburton; Virginia H: Bruker; Marianne P: Opexa Therapeutics; Timothy H: LSC-M (Fuel Cell Research)
Front Row, left to right: Rebecca W: Natural Industries; Michael D: Opexa Therapeutics; Sheryl K: Opexa Therapeutics; Jotja B: Natural Industries
Not pictured: Mary Hubley: LSC-M; Eric Guerra
2011 Biotechnology Students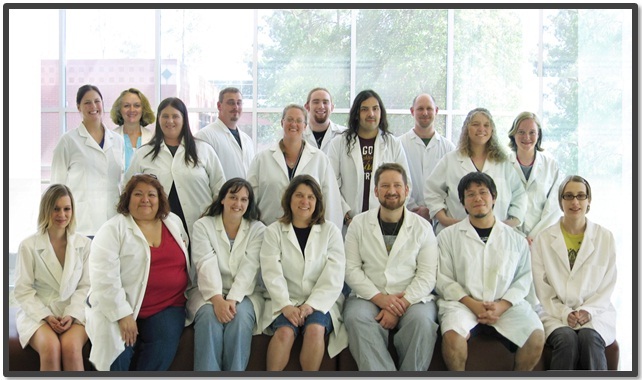 Back Row, left to right: Sarah R: Sigma; Jill B: Student; Cheron B: Student; James K: VGXi; Michelle C: LSC-M (Algae/PBR); Ryan R: Sigma; Erick G: Student; Josh M: LSC-M/GlycosBio; Holly W: LSC-M (Biodiesel)
Front Row, left to right: Amy H: N. Cypress Medical; Sylvia V: Natural Industires: Traci T: LSC-M (Biodiesel); Patricia S: VGXI; Kevin R: Houston Health Department; Adrian S: LSC-M; Jennifer F: Sigma
2010 Biotechnology Students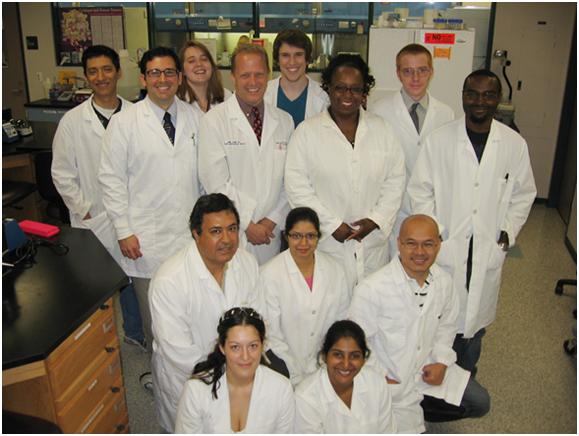 Back row, left to right: Marcos H: Baylor College of Medicine; Mark R: Power3 Medical; Heather M: Sigma Life Sciences Custom Products; Dr. Kainer; Director, LSCBI; Mike G: Biotechnology Solutions; Shonta S: Student; Andrew M: LSC-Montgomery; Isaac T:Weatherford Labs
Middle Row, left to right: Gaston G: LSC-Montgomery; Reagati K: Natural Industries; Tommy T: Student
Front Row, left to right: Erica L: New Energy Fuels; Vijay D: VGXi
Not Pictured: Adam R: SkinMedica; Sean F: LSC-Montgomery; Mark L: SkinMedica
2009 Biotechnology Interns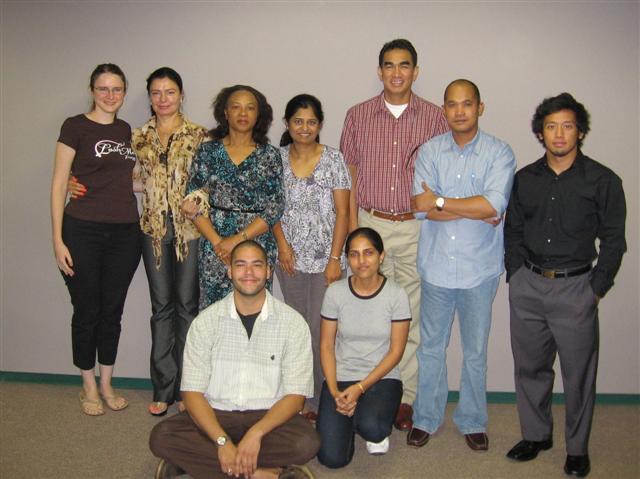 Back row, left to right: Mary Martha B: Xtreme Lashes; Juliana M: SkinMedica; Grace I: Sigma Genosys; Tanuja S: Bruker Optics; J.R. D: SkinMedica; Voltaire: Power3 Medical; Arrow C: VGXIi.
Front row, left to right: Stephen W: VGXIi; Swapna N: Power3 Medical
2008 Biotechnology Interns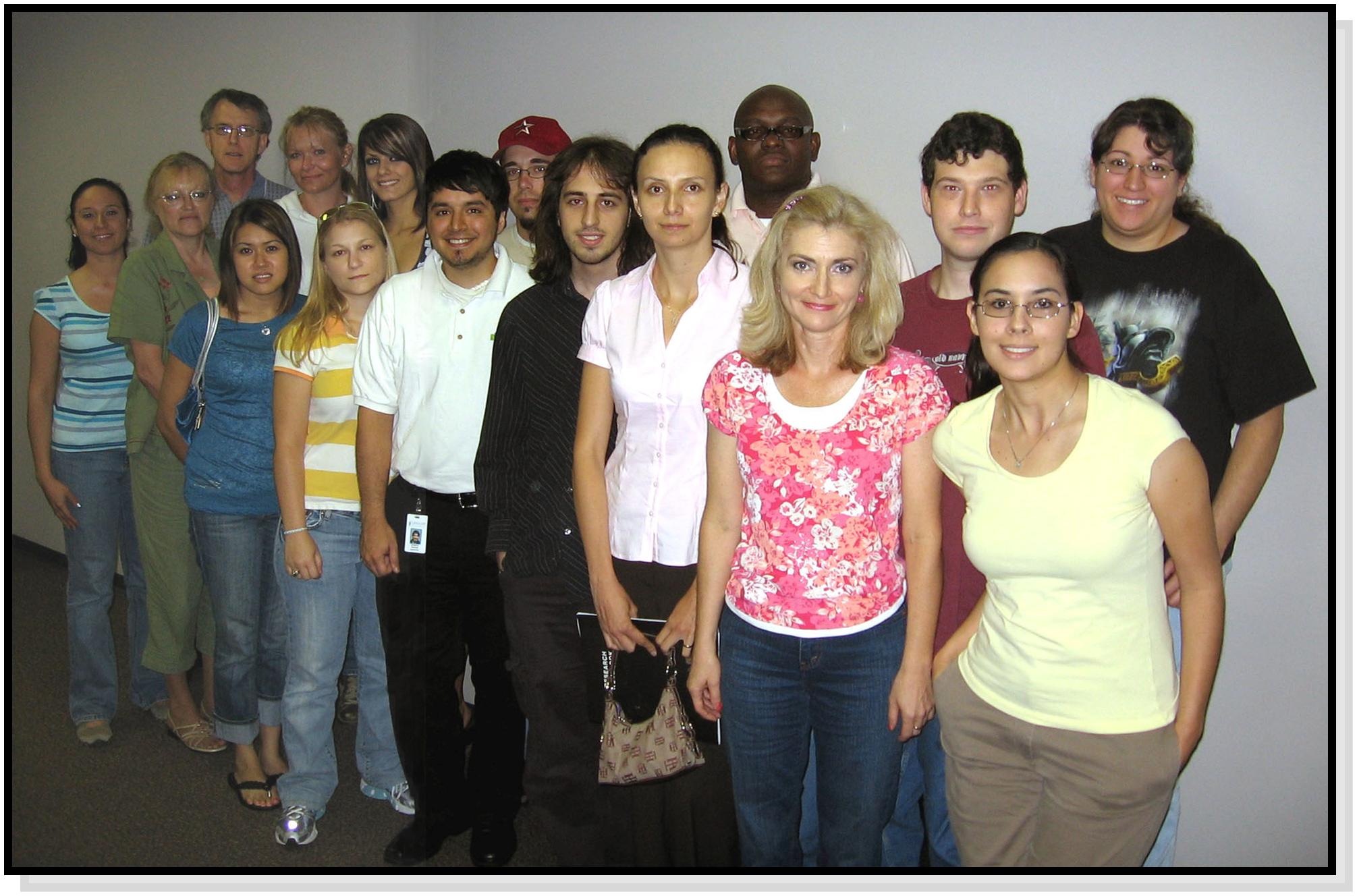 Left to Right: Karina C: VGX; Paula J: BioTx; Mark C; Opexa; Cherry L: Skin Medica; Julia B; VGX; Kim E; Power3; Allyson C: USA Decon; Ernesto F: Lexicon; Joey B: Power3: Adam H: BioTx; Gilam R: Power3; Bernard I: M.D. Anderson; Irina M: Tetra; Travis A: Sigma; Jenny S; M.D. Anderson; Charity V: M.D. Anderson
After graduation, students from the biotechnology program at LSC-Montgomery have found success in many areas. Some are employed by local companies while others chose to extend their education with advanced work.
For students interested in furthering their research skills, The University of Texas M.D. Anderson Cancer Center offers a Bachelor of Science Degree in Molecular Genetic Technology, Cytogenetic Technology, and Clinical Laboratory Science. The programs are highly intensive and offer students opportunities to learn using the most sophisticated testing equipment and techniques available. More information about these programs can be found at: mdanderson.org/healthsciences