Brighton Beach Memoirs
"Brighton Beach Memoirs" - February 24 - March 6, 2011
By Neil Simon
Directed by Ron Jones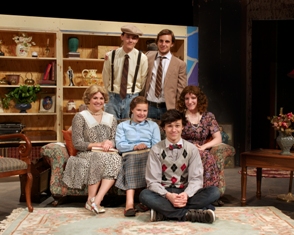 Two Acts, Comedy/Drama Rated PG
The Neil Simon play - one of Broadway's best-loved masterpieces from America's most treasured playwright, "Brighton Beach Memoirs" will be playing at Lone Star College-CyFair's Center for the Arts Main Stage Theatre. "Brighton Beach Memoirs" was one of the longest running Broadway plays of the 1980s. The work ushered in a new era of appreciation for Neil Simon, with praise for the playwright's hilarious and poignant account of his adolescence, early career and family life in New York in the 1930s and 1940s.
"Brighton Beach Memoirs" centers on young Jewish teen Eugene Morris Jerome and his extended family living in a crowded home in the Brighton Beach section of Brooklyn in 1937: his overworked father, Jack; overbearing mother, Kate; his older brother Stanley; Kate's widowed sister Blanche and her daughters, Nora and Laurie. As Eugene spends his time daydreaming about a baseball career, he must also cope with his family's troubles, his awkward discovery of the opposite sex and his developing identity as a writer. A delightful comedy for the entire family!
Produced by special arrangement with Samuel French, Inc.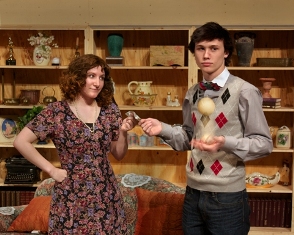 CAST
Eugene ...……… Noel White
Blanche …..…… Sarah Scholl
Kate …..……... Kindra Campbell
Laurie ……….... Mia Koern
Nora …………. Allison Friedrick
Stanley ……….. Cole Pfaffenberger
Jack …………. Sean Quitzau

Production Staff

Director …………………….................... Ron Jones
Assistant Director …………………...….. Chace KInsella
Stage Manager ………………....………. Ally Tefft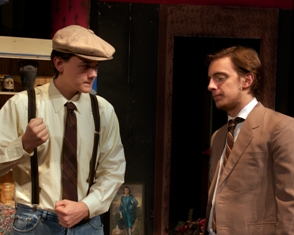 Assistant Stage Manager ……….………. Ricky Lopez

Lighting/ Sound Design ……………..…... Matthew Albrecht

Set Design/ Technical Director ………...... Benjamin Mason

Light Board Operator …………………… Courtney Strahan

Sound Board Operator ………….………. Matthew Albrecht
Costume Designer …………..…………… Cathy Westmoreland
Costume Assistant ……………….…….… Linda Clark
Properties Manager ……………………... Elizabeth Revilese

Set and Lighting Crew ............................... Grace Grajales, Courtney Strahan, Natalie Dierdorf, Tim Radabaugh