Welcome from the LSC-Tomball Music Director
Hello!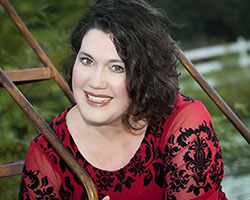 We're so glad that you are taking a look at what the LSC-Tomball Music Department has to offer! In whatever capacity you study, our hope is that you'll allow music to infuse your life – whether its participation in one of our performance ensembles, private lessons, or coursework leading to the music field of study, we'd love to see you in the music hall.
Don't hesitate to contact me if I can be of assistance lisa.r.morales@lonestar.edu.

You can also find us on Facebook: www.facebook.com/LSCTomballMusic.

Just for fun or for serious study, we welcome you!
Dr. Lisa Morales
Voice Faculty and LSC-Tomball Music Program Coordinator
Dr. Morales's Bio
Dr. Lisa Morales' musical journey began at the age of three with Suzuki violin lessons at Oklahoma City University. As a violinist with the Charleston Youth Symphony (SC) and violin performance major through college, she studied with Dr. Won Mo Kim (Charleston Symphony Orchestra), Tiberius Klausner (University of Missouri – Kansas City), Dr. Donald Portnoy (University of South Carolina), and Leonard Feldberg (University of New Mexico).  Vocal studies with Drs. Aija and James Shrader included masterclasses with the renowned vocal pedagogue Richard Miller of Oberlin Conservatory followed by a year of intensive study with Florence Birdwell (teacher of Kristin Chenoweth and Kelli O'Hara among others). While on staff at Tulsa Opera, Dr. Morales worked with nationally and internationally known singers, directors, and conductors and developed an opera appreciation course in conjunction with the University of Tulsa. Recently, she continued advanced study in the field with vocal pedagogy and conducting institutes at Boston Conservatory, Southern Methodist University, and the University of North Texas. Additional graduate coursework at the University of Houston-Moores School of Music has enabled her to learn from Professor Melanie Sonnenberg and the generous voice faculty associated with MSM. (Go coogs!) 
Dr. Morales' students are successful performers and have been welcomed into the Houston Grand Opera High School program, Sam Houston State University musical theater and theater programs, the University of Houston-Moores School of Music, Wichita State University musical theater program, and Oklahoma City University Petree School of Music. Additionally, students who have trained with Dr. Morales are now featured singers and performers in various semi-professional and professional venues, including Disneyland in Orlando!
Dr. Morales has worked in higher education for over twenty years, developing curriculum, establishing and building programs, and designing extracurricular activities. Her research interests focus on the interdisciplinary nature of learning and encompass vocal health, bel canto and musical theater style singing technique, performance practice and programming, and the economic impact of war/effectiveness of reconstruction efforts within two primary contexts: the War of 1812 and the Marshall Plan. At LSC-Tomball, provides leadership for the direction of the music program, teaches music appreciation and private voices students and directs vocal ensembles. She has served on the faculties of University of Tulsa, Northwestern Oklahoma State University, North Central Texas College.
Dr. Morales would love to meet with you, get to know you and your goals, and find a place for you in the Music Program at LSC-Tomball! Contact her at 281.401.1845 or lisa.r.morales@lonestar.edu.